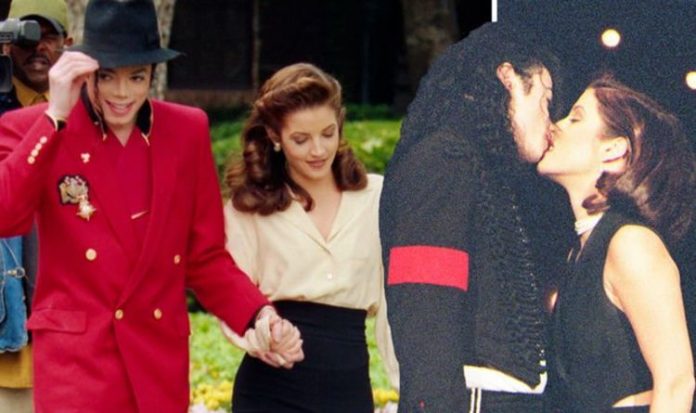 Michael Jackson and Lisa Marie Presley were married after a whirlwind romance. The relationship was the bringing together of two music dynasties, and they made their love known with quite a bang. Fans will remember their slightly bizarre yet iconic on-stage kiss – but when did it happen?
Michael Jackson and Lisa Marie Presley were a well-publicised couple despite Lisa Marie being fairly out of the limelight before that point.
Her father, Elvis Presley, had died when she was only nine-years-old, and since then had been protected by her family and not become too involved with fame.
She had met musician Danny Keough, married him and had two children with him – Riley and Benjamin – but the couple divorced in 1994, after which she quickly tied the knot with MJ.
Michael's fame was huge at this point, and a shy Lisa Marie was thrust into a limelight she had barely experienced, even with her father.
READ MORE:  Pirates of the Caribbean casting: Is Davy Jones still alive?
At the MTV Video Music Awards 1994, they debuted as a couple and amazed fans after walking out onto stage, holding hands, with the fans screaming for them.
Lisa Marie looked shy, clutching Michael's arm as he finally said a quick hello to fans.
He continued: "Welcome to the MTV Video Music Awards. I'm very happy to be here and just think, nobody thought this would last."
They and Lisa Marie then embraced and kissed on stage, and the crowd went wild before they walked off with Lisa Marie's arm around Michael's waist.
Lisa Marie later appeared in Michael's music video for You Are Not Alone, where she appeared naked with the singer.
Lisa Marie has since talked about the VMAs, saying how she did not want to walk on stage with MJ but felt she needed to, for him.
She told Oprah Winfrey in 2010: "Sometimes, he knew I didn't love that [publicity] and he needed to do his thing.
"I would be there uncomfortably, like the MTV thing. His hand was blue after we got off that stage.
"He showed me and it was completely blue – I did not want to do that.
DON'T MISS
"It was not in my nature to do that thing but I understood it, as his wife, I needed to do some things like that."
The couple engaged in some joint interviews, like ABC News's Primetime Live with Diane Sawyer in 1995.
Before their relationship, Michael was barely doing interviews himself, speaking to Oprah Winfrey in 1993 in his first TV interview since 1979.
However, after he and Lisa Marie got together, it seemed to be a different story, with the couple inviting charities and young people to Neverland for televised events, and doing joint interviews and appearances.
Ultimately, their relationship did not last, and it ended 18 months after they married with a quick divorce in January 1996.