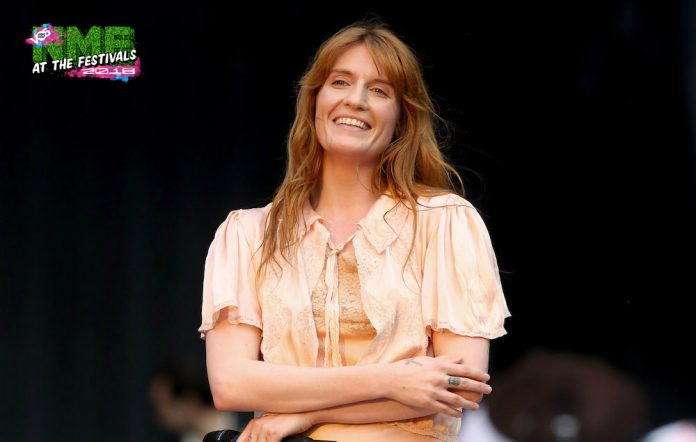 [ad_1]

The German weekender might be one of the most underrated festivals of the year
Held in the City Of Iron, Germany's Melt Festival is an industrial paradise with a scenic lake view set off against huge coal-mining diggers. Couple that with their varied and brilliant line-up, and you've got a weekender that could low-key be one of the most underrated festivals of the year. Here's what you need to know about Melt 2018.
Five acts not to miss
Florence + The Machine
Florence Welch and her band will be playing their new album 'High As Hope' live for one of the first times as they headline Friday night, so you already don't want to miss their set. Plus, Flo's shows are always dramatic, uplifting, and emotional, and the industrial backdrop will make a nice contrast to her bohemian spirit.
When: Melt Stage, Friday 13, 12am.
Fever Ray
Karin Dreijer's performances have always been compelling, but in the past, they've been heavy-going too. According to reports from her recent shows, that's all changed. Now, her sets are full of homemade costumes and bright, more club-friendly arrangements. Sounds like the perfect way to close the festival.
When: Melt Stage, Saturday 14, 12:45am.
Tyler, The Creator
Former Odd Future member Tyler, The Creator is still banned in the UK thanks to Theresa May so, if you're desperate to see him, this is one of your best chances. If you make the trip to Germany, you won't be disappointed. Of his Primavera set, we said he "brought the 'Flower Boy' universe to the coast of Spain and entranced the main stage without a hint of braggadocio or arrogance", and was laid "relaxed across his vibrant stage set like a meditative Peter Pan."
When: Melt Stage, Friday 13, 10:15pm.
Princess Nokia
Destiny Frasqueri – aka Princess Nokia – is one of the most adventurous artists coming up right now. Glide through her back catalogue and you'll find songs tinged with trip-hop, trap, and now emo. Expect her Melt set to be one of the most eclectic of the weekend.
When: Meltselektor, Sunday 15, 10:30pm.
Kali Uchis
Colombian-American singer Kali Uchis is behind one of the best debut albums of the year so far in 'Isolation' and watching her bring it to life is a glamorous thrill. 'Feel Like A Fool' will bring some vintage elegance to the weekend and 'Flight 22' will tug on your heartstrings. No matter what mode she's in, though, Kali's always a star.
When: Melt Stage, Friday 13, 6pm.
Other acts to look out for
Mura Masa, Moses Sumney, Gurr, Badbadnotgood, Rex Orange County, Yellow Days, Honey Dijon.
Info
When: July 13-15.
Where: Ferropolis, Germany – two hours outside of Berlin.
Tickets: €149 for a weekend pass, or €69 per day on Saturday and Sunday. If you're going with four mates, you can get enough weekend tickets for all of you for €479 – that's only €119.75 each. Get tickets here.
How to get there: Fly to either Berlin or Leipzig and get the train to either Gräfenhainichen, Wittenberg or Dessau. Shuttle buses run from those stations directly to the festival.
[ad_2]