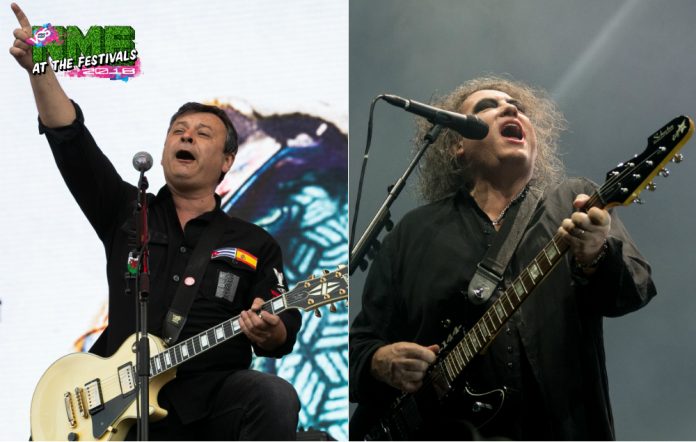 [ad_1]

The band were also joined by The Anchoress at the Robert Smith curated festival
Manic Street Preachers headlined Robert Smith's Meltdown festival in London last night, where they honoured their host with a cover of The Cure's classic 'In Between Days'. Check out footage and the setlist below.
After being hand-selected by Smith alongside the likes of Placebo, The Libertines, Mogwai and Nine Inch Nails, the band took to the stage at the Royal Festival Hall after being supported by friend and collaborator The Anchoress.
Having not performed with the band at recent European shows due to the loss of his mother, Nicky Wire's arrival on stage invited an immediate standing ovation throughout the entire venue before they tore into lead single 'International Blue' from their acclaimed 2018 album 'Resistance Is Futile'.
"No one great has ever asked us to do anything," joked frontman James Dean Bradfield in thanking Smith for asking them to play, before introducing an arena rock rendition of The Cure's 'In Between Days' from "one of their favourite albums" 'Head On The Door'. Wire would later thank Smith for his style influence, recalling his days of experimenting "with a crimper" in trying to look like the goth icon in his youth.
Later in the show, the band were joined on stage by The Anchoress for a stirring duet of 'Little Baby Nothing' and their collaboration 'Dylan & Caitlin', before Bradfield met calls from the audience to play their 1993 track 'Sleepflower'. He teased them with the intro, joking that he was "trying to please you like the whore that I am".
Reviewing the show, NME wrote: "For a band who have headlined Glastonbury and sold out pretty much every enornodome, it's touching to see the Manics so clearly humbled and driven by tonight's sense of occasion and the honour of their invitation. While many of their peers and contemporaries have withered and died or fallen into a legacy circuit pastiche, Manic Street Preachers are clearly enjoying their lingering champagne years. Alongside The Cure, they'll eternally reign as national treasures."
Manic Street Preachers' setlist was:
International Blue
Motorcycle Emptiness
No Surface All Feeling
Distant Colours
In Between Days (The Cure cover)
You Stole the Sun From My Heart
Little Baby Nothing (with The Anchoress)
Dylan & Caitlin (with The Anchoress)
Everything Must Go (with 'Sleepflower' intro-riff teased)
Motown Junk
If You Tolerate This Your Children Will Be Next
Faster (Acoustic)
You Love Us
Walk Me to the Bridge
Hold Me Like a Heaven
Slash 'n' Burn
Kevin Carter
People Give In
Tsunami
A Design for Life
"The one thread I'd agree with is that we all exist in our own worlds," Wire told NME about the band's fraternity with The Cure. "We've never been part of anything else, even Deftones who are so original from what they started with. Our longevity is that we've always avoided being bracketed with any movement.
"Same for The Cure, listen to their early records and they're like no one else. Sometimes they were caricatured as 'classic goth', but they weren't and they were phenomenal. By the time you get to the euphoric pop of 'In Between Days' and 'Just Like Heaven' – it's a startling career."
Manic Street Preachers' remaining summer festival shows include Isle Of Wight, Y Not, Rize and BBC Radio 2's Party In The Park.
[ad_2]