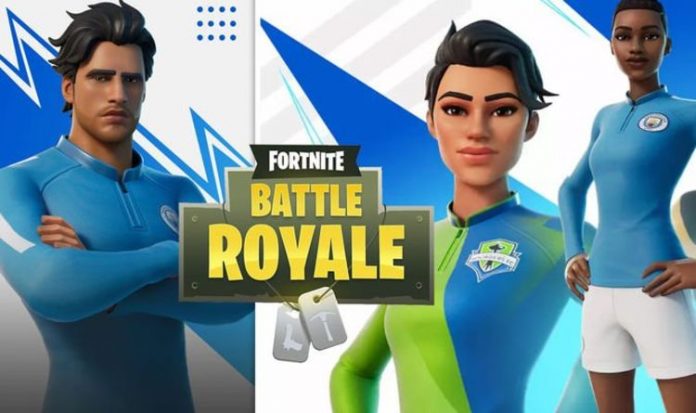 Fortnite fans will soon be able to get their hands on various football skins and emotes from the item shop.
In a surprise announcement, Fortnite developer Epic Games has announced a partnership with football teams such as Manchester City, West Ham and Wolves.
Legendary football player Pele is also getting in on the action, as his classic Air Punch celebration gets its own Emote.
The new football strips and Emote will be available to purchase from the item shop on January 23 (midnight on January 24 for fans in the UK).
However, fans will have the opportunity to unlock the new items early by participating in the Pele cup.
"We're kicking off 2021 in style by bringing the world of football (or soccer to some) in Fortnite!
"Football fans can get the new Kickoff Set and Pelé's Air Punch Emote on January 23, and possibly get them earlier by participating in the Pelé Cup on January 20."
The Fortnite Kickoff set lets fans choose from ten different variants of male and female outfits representing clubs from around the world.
According to Epic Games, each outfit can be tweaked to represent one of 23 clubs available in the game, including the aforementioned Premier League teams, as well as Celtic and Rangers.
There are also variants for the likes of Juventus, AC Milan, Inter Milan and AS Roma, not to mention Sevilla, Sporting CP, Borussia Mönchengladbach, FC Schalke 04 and VFL Wolfsburg.
"While you're still in the game, check our new football-inspired Creative island featured in the Creative Hub!" Epic continues.
"Players will use their bodies, Pickaxes, power-ups, speed boosts and more to try to outscore their opponents and come out the winner in this 4v4 bracket style gamemode. Each game features two rounds, with the winners advancing to face off against and the other team battling for 3rd and 4th in the other match."
The full list of football teams coming to Fortnite…
• Manchester City FC
• Juventus
• AC Milan
• Inter Milan
• AS Roma
• Seattle Sounders FC
• Atlanta United FC
• Los Angeles FC
• Santos FC
• Wolverhampton Wanderers FC
• West Ham United FC
• Sevilla FC
• Sporting CP
• Borussia Mönchengladbach
• FC Schalke 04
• VFL Wolfsburg
• Rangers FC
• Celtic FC
• Cerezo Osaka
• Melbourne City FC
• Sydney FC
• Western Sydney Wanderers
• EC Bahia