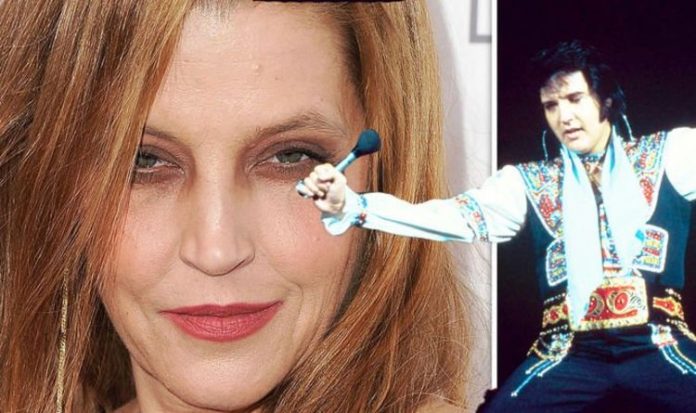 Lisa Marie Presley is a singer in her own right, taking after her father, Elvis. She has sung duets with her father, using the wonders of modern technology. But did Elvis really ever sing about his daughter, or did they sing together?
As Lisa Marie Presley was only nine-years-old when her father Elvis died, meaning they never sang together.
In her career, Elvis has served as a huge inspiration for Lisa Marie, with her singing versions of In the Ghetto, Don't Cry Daddy, I Love You Because and When No One Stands Alone with her father.
They used modern technology for this, which saw Elvis' vocal overlaid with Lisa Marie's, which to her has been hugely important.
Speaking to ITV's Lorraine Kelly at the time of the release of When No One Stands Alone, Lisa Marie said: "I just felt really emotional. It's never pleasant to sing and cry.
READ MORE:  Elvis Presley lyrics: Who is Can't Help Falling in Love about?
Elvis is known to have not written his own songs, therefore it is unlikely Lisa Marie was the inspiration for any lyrics.
However, it may be Elvis dedicated a song or two to his daughter when he went back on the road, touring all over the USA.
Lisa Marie was born nine months after Elvis and her mother, Priscilla Presley, tied the knot, at which point Elvis did not release any studio-born music, except that which was made as a soundtrack.
His last album before her birth was How Great Thou Art, his ninth album and a gospel-focused record.
DON'T MISS
In 1968 Elvis released no music except for soundtrack albums, but the following year he made his major comeback.
As his movie career was slowing down, Elvis decided to make his return to the stage, and his first album for many years made outside the RCA studios: From Elvis in Memphis, was released.
This was a huge success, and soon, buoyed by the reviews and the response to Elvis' TV special in 1968, he began to tour, with his Las Vegas shows becoming iconic.
While Elvis did not write his own songs, he did get 50 percent of songwriting credits on his songs, as negotiated for him by his manager, Colonel Tom Parker.
It turns out this was part of the rule for songwriters who signed with his label, RCA, they had to take credit on some songs, though arguably Elvis' interpretation of the songs helped form them into the iconic tunes they became.