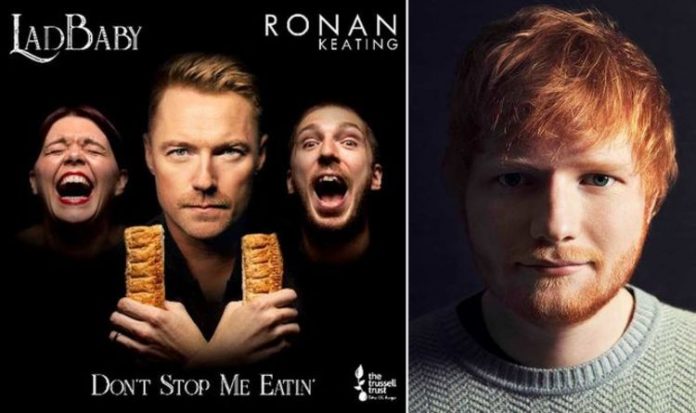 LadBaby has teamed up with Ronan Keating in a duet version of the band's parody of Journey's Don't Stop Believin'. Real name Mark Hoyle took his wife Roxanne to a recording studio where she was surprised by Ronan Keating. A life-long Boyzone fan, LadBabyMum was able to record Don't Stop Me Eatin' with the star to help the original charity track take Christmas No 1, which would be a hat-trick for LadBaby.
LadBaby's Don't Stop Me Eatin' will see all its profits go to foodbank charity The Trussell Trust.
A statement read: "This year, 1.2 million emergency food parcels were handed out during the first 6 months of the pandemic which is expected to increase to a rate of one every 9 seconds this winter – a 47% rise on last year. 
"2 in 5 families now rely on food banks, and a child needed support from a food band every 34 seconds between April and September."
On teaming up for duet, Ronan said: "I was shocked by the statistics on poverty in the UK and how reliant so many people and families are on food banks. It's been a devastating year for many people  so I was delighted to help Mark and Rox raise more money for the Trussell Trust and their amazing food bank operation."
READ MORE: LadBaby teases 'BIZARRE' music video for third Christmas No 1 attempt
LadBaby said he still can't believe that they got to record a song about sausage rolls with Ronan Keating.
Mark said: "A very surreal moment to hear a musical icon you've grown up listening to, singing a song you've written in your living room about sausage rolls to help raise money to feed people in poverty in the UK.
"Unbelievable. As a great man once said 'Life is a rollercoaster, you've just got to ride it'."
While Roxanne commented: "RONANNNNNN KEATING!!!!! I GOT TO DUET WITH RONAN KEATING!!!!! I was just gutted I had to keep 2 metres apart. The whole thing was a dream come true and you can now search iTunes and find a song with ME AND RONAN KEATINGGGGGG!!!!"
LadBaby added: "I don't know where these odds come from. But look, it's funny we're on the bookies and hopefully, we're able to do this for a good cause."
When we asked why he chose Journey's Don't Stop Believin' to parody this year, the YouTuber admitted he'd run of songs with rock and roll in the title.
The 33-year-old said: "What we've tried to do for the last two years is find songs that families love and that families know. We want to do a song that Mum, Dad, Granny and the kids can have a little dance to it."
"We looked at karaoke songs and Journey's Don't Stop Believin' always ranks high and obviously puts people in a feel-good mood; something they feel confident about singing."
LadBaby added: "So we thought, 'Why not? Let's give it a go and weave some sausage roll magic into that!' And you know what? I think it's a kind of sentiment of what we all need this year.
"Don't Stop Believin' that things are gonna get better and 2021's gonna be a better year. It just felt right!"
Of course, Mark wasn't going to attempt the Christmas No 1 again this year until he saw how the pandemic was affecting communities and hasn't ruled out a fourth attempt in 2021 just yet.
LadBaby's Don't Stop Me Eatin' is out now and the Ronan Keating duet can be downloaded here.