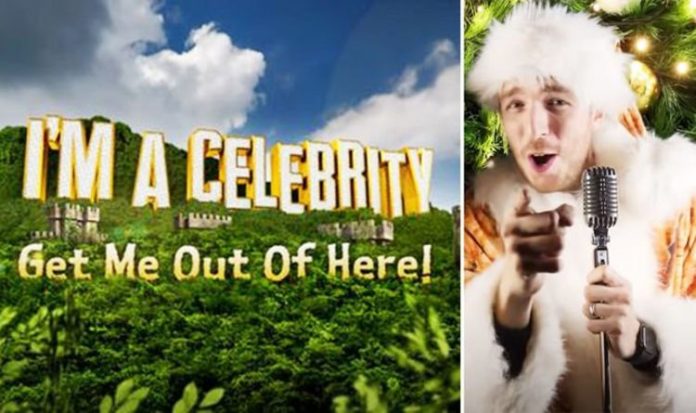 LadBaby is well on his way to securing his third Christmas No 1 in a row today. Once again, real-name Mark Hoyle's latest song is raising money for foodbank charity The Trussell Trust. Aside from the music, the YouTuber has already featured in a Walkers Crisps advert, but is he now set to take part in I'm A Celebrity…Get Me Out Of Here! 2021?
Express.co.uk caught up with LadBaby earlier this month as he launched his new charity single Don't Stop Me Eatin', a sausage roll parody of Journey's Don't Stop Believin'.
The 33-year-old is odd-on to make his Christmas No 1 hat-trick, but he's a bit sceptical.
LadBaby said: "Y'know what, I don't read too much into the bookies' odds these days.
"The bookies had me as favourite to go in I'm A Celebrity this year and ITV never rang me!"
READ MORE: LadBaby teases 'BIZARRE' music video for third Christmas No 1 attempt
LadBaby added: "I don't know where these odds come from.
"But look, it's funny we're on the bookies and hopefully, we're able to do this for a good cause."
Asked if he'd like to be on I'm A Celebrity, Mark replied: "If the question ever came I think it'd be amazing!
"Whether or not I could follow in the footsteps of Giovanna Fletcher I don't know, she was amazing this year. Yeah look, if it came, I'm sure it would be amazing."
LadBaby said: "What we've tried to do for the last two years is find songs that families love and that families know. We want to do a song that Mum, Dad, Granny and the kids can have a little dance to it.
"We looked at karaoke songs and Journey's Don't Stop Believin' always ranks high and obviously puts people in a feel-good mood; something they feel confident about singing.
"So we thought, 'Why not? Let's give it a go and weave some sausage roll magic into that!' And you know what? I think it's a kind of sentiment of what we all need this year. Don't Stop Believin' that things are gonna get better and 2021's gonna be a better year. It just felt right!"
Apart from his three Christmas No 1s, we asked the 33-year-old what his favourite Christmas song is.
LadBaby replied: "Mine are the novelty songs because I've got to, because that's what ours are. We love Bob the Builder in our house; probably the one that people listen to the least!
"We've got kids of that age so I'm all up for novelty songs: Bob the Builder and Mr Blobby!
"My wife though, she's obsessed with Christmas, she has the Disney Christmas album in the car from about October. I listen to Mickey Mouse singing most of our Christmas songs!"
LadBaby's Don't Stop Me Eatin' is out now and can be downloaded here.