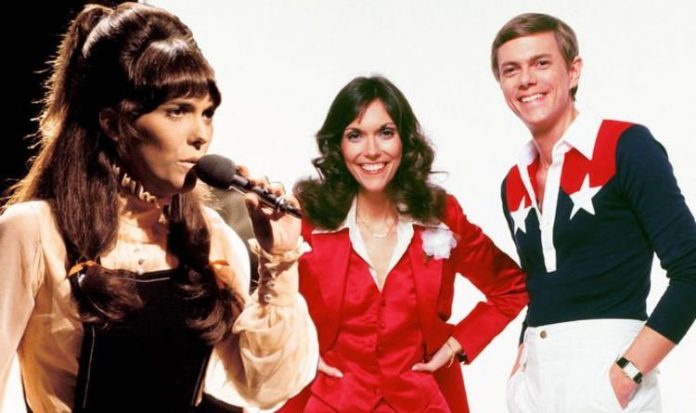 Karen Carpenter's dulcet tones are some of the best known from the 1970s. She and her brother Richard's band, The Carpenters, brought fans songs like Close To You and We've Only Just Begun, which became some of the most famous of the era. But how did Karen die, and did The Carpenters continue without her?
How did Karen Carpenter die?
Karen's death was an incredibly tragic story, as she died from heart failure brought on by years of anorexia nervosa.
According to Randy Schmidt's biography of Karen, called Little Girl Blue: The Life of Karen Carpenter, Karen had started dieting in high school.
She had tried various diets and by the time The Carpenters were famous, she weighed approximately eight-and-a-half-stone.
READ MORE: Buddy Holly death: How rock 'n' roll star's death inspired famous song
Over time, The Carpenters' success was growing and Karen became increasingly concerned by her appearance. By the time they had reached their peak, she decided to try and lose weight.
She enlisted the help of a personal trainer, but believed his method was to make her bulk up with muscle. She subsequently decided to use her own methods of eating less and counting calories, which ultimately saw her reach her lowest weight of around six-and-a-half stone.
Richard recalled how he tried to help her, but felt at a loss to get his sister to see her illness.
He told People magazine after her death in 1983: "From early 1975, I tried every method I knew to get her to eat.
"I would scold her, and she would say I was getting upset over nothing.
"There were times I did lose my temper, but it was always out of love.
"Karen was always worried about the way she looked, so I tried to appeal to that. I told her she was too thin and that people were noticing it…
"Eventually, though, my parents and I realised that there was nothing we could do except state what was on our minds. We never knew how to help her."
Richard even commented on how fans would gasp when she came on stage due to her gaunt appearance, but eventually, in 1981, she turned to him for help, and she began therapy.
DON'T MISS
Despite being in therapy in New York City, she did not put weight on for some time, and Randy Schmidt explained that she used laxatives and thyroid medication to help her continue to lose weight.
Eventually, she was admitted to hospital, where she was fed through an intravenous drip, and she began to put weight on.
According to Richard, this was the beginning of a turning point for Karen, but the years of low weight and medications had put a strain on her heart.
Richard added: "There never was a point where she acted like she was sick. She was her bubbly, energetic self right to the end, and she ate well in her last weeks.
"For the 25th anniversary of the Grammys [the month before her death] we showed up at CBS Television City for alumni pictures. Afterward I took her to St. Germain [an elegant L.A. restaurant] for dinner.
"She had an appetiser, French bread, wine, the entree and everything that came with it. I knew she had gotten an urge for tacos earlier and that she was eating chilli again — one of her favourites.
"I don't know that we'll ever know everything about Karen's illness, but I think all those years of starvation took their toll — she put weight on too fast in those weeks in the hospital, and it put an undue strain on her heart.
"I've been told by doctors that getting that many calories shot into your system in a comparatively short period of time does that."
Before Karen died on February 4, 1983, she had spoken to her brother and friends and seemed to be in good spirits, talking of resuming touring and getting her career back on track.
Sadly, that was not to be, and her funeral took place on February 8.