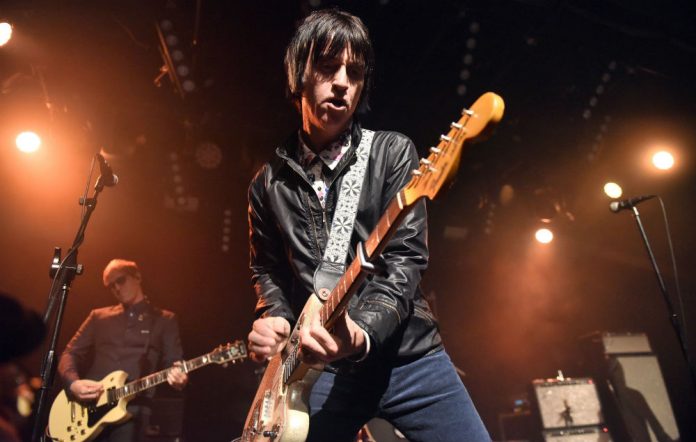 [ad_1]

"There's a chapter that's yet to be finished"
Johnny Marr has revealed that all of the many bands he's been part of and worked with, he'd most like to reunite with The The, Modest Mouse and Pet Shop Boys.
Watch our video interview with Marr above
Having been part of the likes of The Smiths and The Cribs among many others, Marr says that it's his recent reunion with The The and celebrated work with Modest Mouse that he most wants to return to.
"Last year I did a couple of things while I was making [acclaimed new album] 'Call The Comet'," the guitarist and solo star told NME. "I did a The The comeback single, which was their first for 15 or 16 years. That was a real joy, to be playing behind Matt Johnson again. I never really think the door is shut on The The, and I've got a feeling that Modest Mouse is a chapter that's yet to be finished. Those are the two people I'd like to work with again."
While adding that he wouldn't be returning with New Order's Bernard Sumner to reform Electronic, Marr added: "There are some people I just keep going back to: Pet Shop Boys, The The, Modest Mouse. You never say never, but I've got too many new things that I want to do."
Asked about what he looks for in an ideal collaborator, Marr said that their must be a natural chemistry to make great work – and culture and geography don't matter.
"With collaborators, it's kind of interesting," said Marr. "On 'Spider-Man 3', I did some work with Pharrell Williams. It was interesting, because you've got the guy who wrote 'Happy' writing with the guy who wrote 'Heaven Knows I'm Miserable Now' – which is very ironic. Even though on the face of that I come from the British 'indie rock' scene and Pharrell comes from an American R&B, hip-hop kinda pop and soul scene, very quickly when two people sit down in front of the speakers it's a little bit like being in a row boat.
"You're both trying to get to the shore and out to the horizon. That's really what it feels like. You've got this destination and usually that destination is something like magic coming out of the speakers. When I wrote a lot of songs with Karl Bartos from Kraftwerk, it didn't matter that I was a Mancunian guitar player and he was a German electronic musician – that all goes out the window because you're trying to create this great piece of work. That's the amazing thing; that all of that geographical distance and cultural distance goes out the window."
He added: "I'm really aware when I'm doing it and it's a really fantastic thing, because a lot of musicians in the background that I come from play with their mates in a band around the corner year-in-year-out. I've been very fortunate in working with musicians from around the world. Your destination is a common destination."
'Call The Comet' by Johnny Marr is out now.
[ad_2]