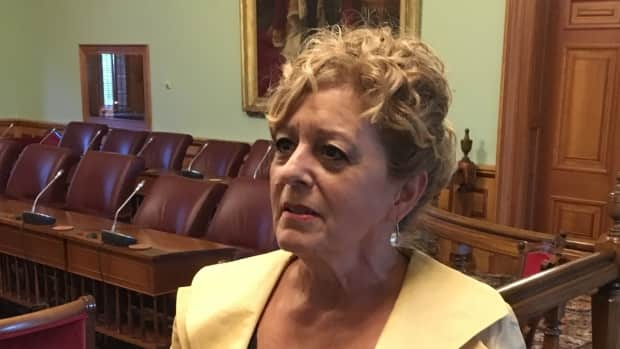 [ad_1]

New Brunswick's official languages commissioner is urging the provincial government to beef up its own handling of bilingualism with a new office or secretariat led by a senior civil servant.
Katherine d'Entremont says in her 2017-18 annual report that the province is still not making enough effort to fully serve the public in both English and French.
Part of the problem is "the lack of an adequate structure and adequate resources to support the Premier," who, she points out, has legal responsibility to enforce the Official Languages Act.
In her final report before retiring next month, d'Entremont says the government has fallen short on developing a comprehensive plan to meet its bilingualism obligations.
A 2013 update of the language law requires such a plan.
Premier Brian Gallant's Liberal government has a plan, she writes, but it "has not resulted in renewed progress toward the equality of both languages and both communities."
"The Premier must therefore have an effective team: a team with sufficient resources, in order to adequately fulfil this role."
She notes that the percentage of New Brunswickers using French as their first language was 31.9 per cent in 2016, down from 33.8 in 1971. That's evidence of a "slow decline" of the language and shows the need for more robust effort, she concludes.
D'Entremont said the percentage of New Brunswickers using French as their first language was 31.9 per cent in 2016, down from 33.8 in 1971. (Jacques Poitras/CBC)
The report says offices, secretariats and deputy minister posts have been created for other areas such as "corporate communications," "special initiatives" and "women's equality."
At the same time, d'Entremont says, civil servants responsible for official languages are not in senior roles and are spread around three departments — an indicator the issue isn't seen as a priority.
The commissioner also criticizes former Liberal cabinet minister Donald Arseneault for rejecting her 2015 recommendation that the government require all senior civil servants be bilingual.
She wrote at the time that some leaders of francophone organizations meeting with senior officials in Fredericton had to conduct the meetings in English.
Arseneault quickly rejected the idea, which earned him a rebuke in d'Entremont's report Wednesday.
"If the Minister had contemplated the reverse situation — anglophones not being able to use English to communicate with senior public servants — he would certainly have realized that his position was indefensible," she writes.
The report says d'Entremont's office investigated 79 complaints in 2017-18. There were 64 about lack of service in French and 15 about lack of service in English.
D'Entremont announced this spring she'll retire from the commissioner's position in July, five years into her seven-year term.
The government will appoint an interim commissioner during the summer. A permanent replacement has to be approved by the legislature after the Sept. 24 election.
[ad_2]