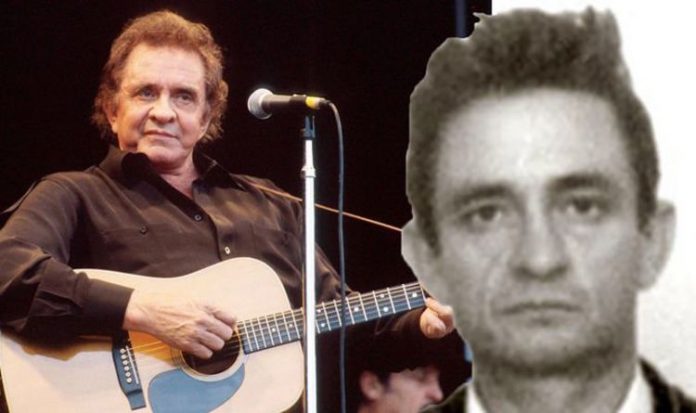 Johnny Cash's outlaw image was a vital part of his appeal. He also performed in prisons for free, famously in Folsom Prison, so it has often been assumed Johnny truly was an outlaw but did he ever actually go to prison?
Many fans will have seen Johnny Cash's famous mug shot, taken in 1965, and another taken at Folsom Prison in 1966.
While this may suggest he was sent to jail at one point, he only ever stayed overnight in holding cells, and never served a prison sentence.
This contradicts some of his song lyrics, where he sings in Folsom Prison Blues: "I ain't seen the sunshine since I don't know when.
"I'm stuck in Folsom prison, and time keeps draggin' on."
READ MORE:  Pirates of the Caribbean casting: Is Davy Jones still alive?
He later sings: "But I shot a man in Reno just to watch him die.
"When I hear that whistle blowin', I hang my head and cry."
When he performed in Folsom Prison, the prisoners gave a great cheer to these lyrics, showing how they believed The Man in Black understood their viewpoint.
However, the second mugshot was reportedly taken as a joke for the guards, and Johnny even put a plaster on his head to look as though he had been in a fight.
The 1965 mugshot, in contrast, was a real image, taken on May 11 when he was arrested in Starkville, Mississippi, for trespassing late at night onto private property to pick flowers.
This incident inspired the writing of his song Starkville City Jail, which he discussed on his Johnny Cash at San Quentin live album.
Johnny was arrested seven times, and each time spent a night in jail, but never served a full prison sentence.
Also in 1965, Johnny was arrested while on tour on October 4 in El Paso, Texas.
It was believed he had been smuggling heroin from Mexico, but instead prescription drugs were found hidden in his guitar case.
DON'T MISS
As these were prescription medicines, Johnny was given a suspended sentence and was released after posting the bail of $1,500 (£1,000.)
It was also reported in the 1960s, while his addictions were at their height, he smashed up hotel rooms and had numerous brushes with law.
This came to a head when he was taken off stage at the Grand Ole Opry for dragging a mic stand across the footlights of the stage in a fit of temper.
After this happened, he ran a car into a pole and knocked out some teeth and broke his nose.
However, while he struggled with addictions throughout his life, he attempted to turn his life around after marrying June Carter in 1968 and turned back to the church.
He did two and a half years of study in the late 1970s to receive a theology degree and became a Christian minister.
The Reverend Billy Graham, a famous American Christian pastor, encouraged him and though, he never led a congregation, he officiated the wedding of his daughter Karen and remained a devout Christian throughout the rest of his life.
While Johnny did not spend much time in prison as a criminal, and eventually made an important change in his life, he did perform numerous concerts in prisons, leading to live albums which were hugely successful in the 1960s.
He even went abroad to Sweden and performed at Österåker Prison in 1972, and released an album from the event.
His 1967 concert at Tennessee State Prison was recorded to be televised, though it was ultimately broadcast after his death in 2003.