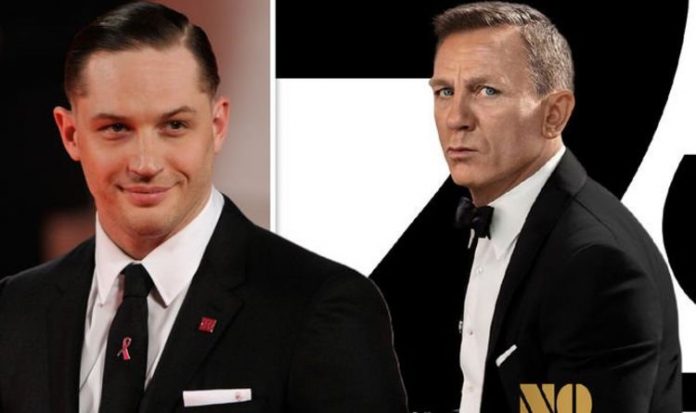 James Bond will be featured in the upcoming movie No Time To Die on April 2, 2021. While Daniel Craig has appeared in four films so far, this will be his fifth and final outing as the character, concluding his version of Bond's story once and for all. After that, the actor behind 007 will change once again, ushering in the seventh to take on Bond.
At the moment, according to leading bookmaker Coral, British actor Tom Hardy is the favourite for the role.
The betting agent has placed Hardy at 5/4 on claiming the role next year after Craig steps down.
Coral representative Harry Aitkenhead said: "Tom Hardy is the clear favourite at the moment to step into 007's shoes once Daniel Craig's final film hits cinemas at last."
Hardy is followed by a slew of well-known actors who are also battling for their spot in the upcoming collection of spy movies.
READ MORE: Sean Connery on why he REALLY returned to James Bond role
Just behind Hardy is McMafia star James Norton, who has a strong 5/2.
At one point Norton was the favourite to take over from Craig, and with his odds increasing each week, the tide could turn against Hardy any day.
Outlander Star Sam Heughan is also a favourite within the James Bond fandom.
The Scottish actor currently has 6/1 odds on becoming the spy, giving him a fighting chance to claim the role as well.
Aitkenhead added: "Harry Styles is a lively outsider in our betting.
"At 25/1 with being the next James Bond, the same odds as Damian Lewis and Henry Golding."
Also included in the top 15 stars pegged to claim the Bond role are Poldark actor Aidan Turner, and the Rocketman himself, Taron Egerton, who played Elton John in the hit film.
Earlier this month 007 fans lost the original James Bond – Sean Connery.
The actor died in his sleep on October 31, 2020, surrounded by his family at his home in the Bahamas.
Connery famously returned to the Bond role twice – the second time was in 1983's Never Say Never Again.
Speaking about making the decision to return, he explained he "insisted that they go back to [a detective] sort of movie".
He later added: "I prefer the story – the detective story – getting good actors in all the parts across the board, and getting a more substantial type of film."
James Bond No Time To Die will be released in cinemas on April 2, 2021.