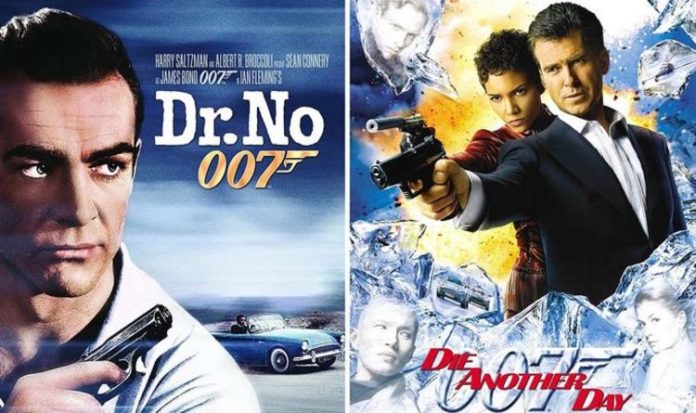 There are 25 official James Bond movies, including the yet to be released No Time To Die, and the first 20 are now available to legally stream for free on YouTube. From Sir Sean Connery's debut in Dr No to Pierce Brosnan's final outing Die Another Day, that's every official 007 movie except for the Daniel Craig era. MGM have removed the paywall for the time being on their official YouTube account, so what's the catch?
Aside from Daniel Craig's five Bond movies, all the official 007 outings of Sir Sean Connery, George Lazenby, Sir Roger Moore, Timothy Dalton and Pierce Brosnan are available to stream.
Of course, there are a couple of catches to this sudden complimentary access to 20 Bond adventures.
Firstly, you have to watch the movies with advert breaks every now and then and secondly this offer is currently only available to those streaming inside the US.
Lucky American Bond fans can find those 20 classic spy movies right here, while the full list of options is below:
READ MORE: James Bond movie order: Who played 007 in which movie?
While Never Say Never Again was a remake of Thunderball starring Sir Sean Connery for the seventh time.
Sadly, the Scottish star died at the age of 90-years-old on October 31, 2020.
Both Sir Sean and Sir Roger played James Bond across seven 007 movies.
However, as of this year, both actors' tenures have been surpassed by Bond villain star Toby Stephens.
Stephens played Gustav Graves in 2002's Die Another Day opposite Pierce Brosnan.
But Dame Maggie Smith's son has also starred as James Bond in eight adaptations of Ian Fleming's original novels for BBC Radio 4 dramas.
The 51-year-old has made one every year for the last three years, with 2020's being The Man With The Golden Gun.
Both his versions of Moonraker and Thunderball are currently available on the BBC Sounds app.