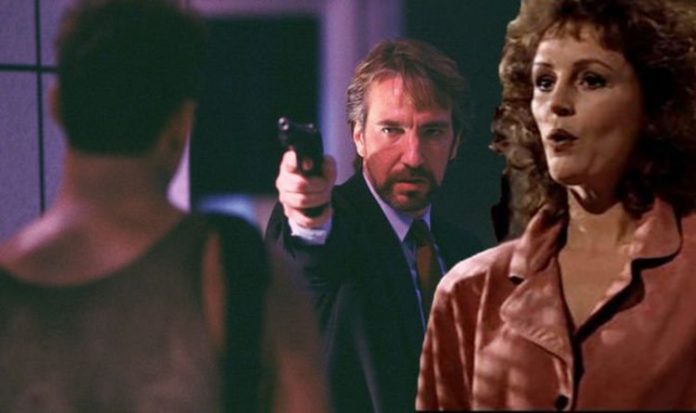 Die Hard is one of the films which comes around every year and is plastered over our TVs. However, with so many other great Christmas movies to enjoy, it may be slightly harder to find the Yuletide classics than under normal circumstances. So how can fans watch Die Hard over Christmas – is it on TV?
Is Die Hard on TV over Christmas?
Die Hard is available to watch on TV, and will be played exclusively through Sky Cinema Christmas.
There is one small catch, in that the film does not seem to be playing on terrestrial TV, meaning fans will have to cough up some cash to watch it.
The Sky Cinema Christmas channel will play Die Hard at various points, along with other movies, from December 1, but fans will have to have a Sky box to play it.
READ MORE:  Michael Ball and Alfie Boe video: Watch Michael and Alfie sing Les Mis
For those without this access, it is also available to stream on NOW TV, or to rent on the Sky Store, which is part of the NOW TV subscription.
Die Hard is also available to stream on Amazon Prime, where it is £3.49 to rent in HD and £4.99 to buy in HD, meaning it is far cheaper than attempting to see it in a cinema.
As well as this, the film is available on Google Play, iTunes and YouTube as a pay-for film.
For American viewers, there is one subscription service through which fans can watch the movie across the pond.
Die Hard is available on HBO Max, via Hulu or on the subscription service, meaning fans can enjoy the movie as part of their programming.
Die Hard 2 is also available on Amazon Prime, while the other Die Hard movies are only available in rental or VOD formats.
Is Die Hard a Christmas movie?
This is a question which many have asked, with little definitive answers being offered.
The movie takes place on Christmas Eve, 1988, when John McClane travels from New York to Los Angeles to try to make up with his estranged wife, Holly.
DON'T MISS
She had been working in LA at Nakatomi while he was in New York, working as a detective in the NYPD.
He is driven to the Nakatomi Plaza in LA by Argyle, his driver, to join Holly at the company's Christmas party, and Argyle waits in the underground car park for him.
John goes to change into a suit to impress Holly, during which time German terrorist Hans Gruber and his heavily armed team seize the tower, taking those inside as hostages.
While it does not sound like the ideal set up for a Christmas movie, it happens over the Christmas period, with the decorations and the snow making the film somewhat festive.
In 2018, however, Bruce Willis denied his film was a Christmas film, saying: "Die Hard is not a Christmas movie, it's a goddamn Bruce Willis movie."
The director of the film, John McTiernan, has also weighed in, asserting the opposite to the film's star.
He said earlier this year, as written in The Times: "We hadn't intended it to be a Christmas movie.
"But the joy that came from it is what turned it into a Christmas movie."
He noted the "terrorist film" is subversive, but is a good alternative to the saccharine Christmas films which usually take up our TV viewing.