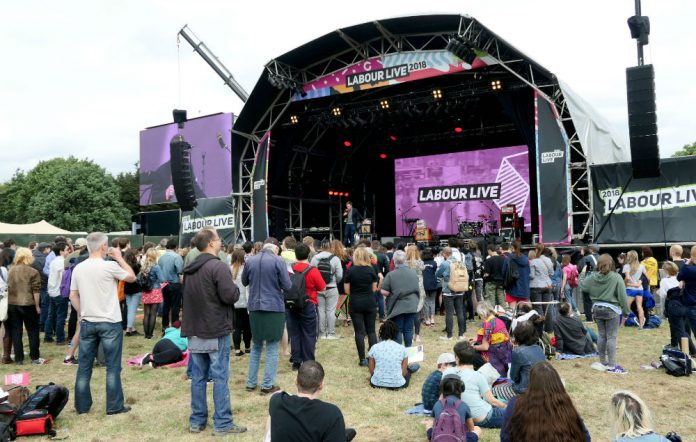 [ad_1]

Former NME cover star Jeremy Corbyn held his own shindig this weekend – and it wasn't quite the disaster many predicted
"A lot of politics today," the Rev notes sagely. "A lot of things to discuss." And with that, Sheffield indie veterans Reverend and the Makers barrel into their 2007 cod-reggae wobble 'He Said He Loved Me', replete with Mockney knees-up backing vocals, as the Hawaiian shirted Rev – aka Jon Mcclure – shadow boxes at the crowd. The country's a mess, and it's debatable whether a late-afternoon set from Reverend and the Makers is likely to change that.
Labour Live, which has been dubbed 'Jezfest' by the jeering right-wing media, is Jeremy Corbyn's ambitious politics, music and arts festival, held at the 15,000 capacity White Heart Recreational Ground in Tottenham, north London. The run-up to the shindig has seen it ridiculed as something of a shambles, despite a line-up that boasted The Magic Numbers and Glen from the Sex Pistols. A week before the gates opened, just 2,000 punters had bought tickets at the full price of £35, though the trade union Unite bought up a thousand to give away to its members.
READ MORE: Here's who should have been on the dismal Labour Live line-up
I live nearby, so didn't need to apply for a press pass, as my local MP David Lammy kindly emailed me to say: "I've worked with our local Labour Party to secure some tickets to Labour's festival to give to local members like you." I've not actually been a Labour Party member for over a year, but click the 'CLAIM YOUR FREE TICKETS' button quicker than Ken Livingstone can make an off-colour remark. By the time the big day rolls around, Labour has reduced tickets to a tenner, and kids go free. With this reduction, plus free coaches from across the country, the number swells to around 13,000. The result: an atmosphere of cheap-and-cheerful optimism.
Amid the chaos in the run-up to the festival, which consists of four stages and aims to capitalise on last year's grime -led Labour 'youthquake' (though grime acts are curiously absent from the line-up), it was reported that the Workers Beer Company had pulled out because the projected number of punters didn't warrant the effort. Make your own jokes about that one, yeah? In the event, there is beer on tap, though it runs out halfway through the day. Mark Wallace, the editor of Tory website ConservativeHome, tweets: "Even I expected it to take longer than five and a half hours for Corbynism to produce shortages."
Ho-ho-ho. Organisation is a problem, though, as there are only three food trucks for 13,000 people. Queues stack up; from above the field must look like the early stages of a game of Tetris. As I wait 45 minutes for a burrito, a woman in front of me complains that her two young sons are loopy with hunger. Here, though, I glimpse the other side of Labour Live: steadfast devotion to Corbyn.
His Main Stage speech is fast coming up – the distant strains of The Magic Numbers' agreeable, mid-noughties indie-pop waft over to the food truck – and a family nearby is worried they'll miss him. "They've seen him twice already this year," the mother proudly tells a stranger of her two children, as though she were talking about Stormzy, who reportedly wanted £100,000 to perform at this anti-capitalist event, something the festival organisers decided against.
The Main stage field is legitimately packed for Corbyn's star appearance. Earlier in the day, he had wandered into the festival grounds, surrounded by a scrum of bodyguards and fans who chanted 'Oh, Jeremy Corbyn' to the tune of The White Stripes' 'Seven Nation Army', a phenomenon that took off last year, just before Labour surpassed expectations in the General Election. A mere glimpse of Corbz is enough to send the devoted tearing across the field just to touch the hem of his garment. There is, undeniably, something cultish about the whole thing.
"Jeremy Corbyn is like a rock star" – 26-year-old Labour Live punter Zac Leon
The PA system blares out The Beatles' All You Need Is Love', moments before Corbyn takes to the stage. "This is the first time a political party has organised something like this", he boasts, emphasising that Labour Live is not just about politics: it's equally a celebration of music, poetry and creativity. "Ours is a politics of inclusion," he beams. It's genuinely moving to see the leader of the opposition champion the benefit of art for its own sake, just as it's moving to hear him speak about the country's on-going mental health crisis: "A quarter of our population at some point in their life will have some kind of mental health crisis. Sadly, too many young people – particularly young men – take their own lives in desperation and in isolation."
Corbyn offers deep compassion for refugees – "We do not see refugees as a threat; we see refugees as people who have suffered" – and barbed words for Theresa May: "You crept back into office over a year ago, and you started throwing money around to stay in office. Give up, move over and let the people take control." This incites an ecstatic cacophony of cheers, which Reverend and the Makers subsequently ride. People say Labour want to take us back to the 1970s, but, judging by the Rev's setlist, it's more like the halcyon days of 2007.
Out in the field, most people seem to be having a nice time. I find 26-year-old Zac, who wears shades and a ratty Che Guevera hoodie, strumming a guitar. "Jeremy Corbyn is like a rock star," he says. "His speeches are as moving as a gig. It's been a really pleasurable day from start to finish." And what of the nay-saying from the media? "We just switch off and we enjoy it. Today isn't about Labour showing off; it's a reflection of the fact that this is a grass-roots movements. The fact that they reduced the tickets helps poor people, too."
By the way, what was he strumming along the guitar when I came along? "'John Wesley Harding' by Bob Dylan," he explains, removing his shades, "but I changed the words to 'Jeremy Corbyn'."
19-year-old Ragavi Thaya is less enthused, though she is a Green Party supporter, and only came because a friend dragged her here. "I was rather disappointed," she says. "There wasn't a lot going on. There wasn't enough food. But The Magic Numbers were good – I hadn't heard of them before." Will she stick around for inoffensive dance-poppers Clean Bandit, who were drafted in as last-minute headliners? "I wanted to, but there's nothing else to stay for, so we're just going to go home." And what did she reckon to Corbz's set? " I found it a bit… idealistic."
READ MORE: #grime4corbyn: inside the movement that seeks to be "a form of political resistance"
Idealism is the real headline act at Labour Live, and it's the idealistic belief that Jeremy Corbyn can almost singlehandedly turn the country around. The Grenfell tower tragedy is a recurring motif; the 71 who died in the blaze a symbol of a country that prioritises profit over people. I'd estimate that a sizeable chunk of the festival's attendees are working class. Many are disabled. Corbyn really does appeal to the most vulnerable in society, though it perhaps says more about our society that, faced with a lack of alternatives, they've pinned all their hopes on one 69-year-old man.
At the end of the day, Clean Bandit dance through the half-light with a likeable and surprisingly politicised set, as cello player Grace Chatto naughtily dedicates new single 'Solo', a song about wanking, to the Tories. "What a bunch of wankers!" she jeers, enjoyably, like a football hooligan. The band's only on for about 25 minutes, after which dedicated believers continue to bellow that Jeremy Corbyn chant at one another – long after the show is over.
[ad_2]