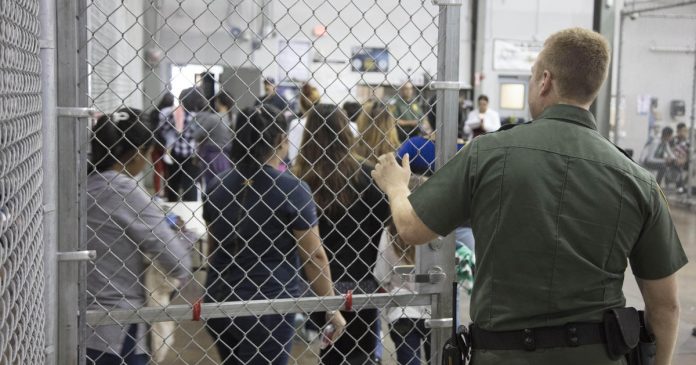 [ad_1]

McALLEN, Texas — Video provided by the U.S. government of the immigration facility housing hundreds of people was released Monday. A day before, the media was given 15 minutes to write down what was seen in person at the facility. Reporters couldn't bring cameras. Inside, men, women and children are kept in large cages. They are segregated according to how they crossed the border.
"It's not just a very simple issue of separating the families. We have to look at this broader and without emotion and objectively," said Rio Grande Valley Border Patrol Chief Manuel Padilla Jr. "We actually have to do something about the current immigration law that has many loopholes."
Asked if illegal immigration has become so bad that separating families is the best way to deter people from coming illegally, Padilla said it's "one of the only options."
The detention process is complex, with many variables. But generally under the Trump administration's zero tolerance approach, parents are subject to criminal proceedings, and minors are reclassified as unaccompanied alien children. The maximum holding time for them is 72 hours before they are placed in one of approximately 100 shelters.
The goal is placement with a family member already living in the U.S. If a parent seeking a claim of asylum is denied, the policy is for them to be reunited with their child, but the process could take weeks.
Rudy Cisneros is a Mexican-American Army veteran and reacted to what is happening in McAllen.
"Not taking away from what these kids are going through, and I understand people want a better life, but there's a process and we're a nation of laws," he said. "Whether you like him or not, Trump, he at least is trying to do something to secure our country."
Belinda Garcia might seem like someone who would support the president's policies. She lives a quarter-mile from the Rio Grande River where migrants swim across and then run through her backyard. She says her fence is bent because of it.
Yet she doesn't the support zero tolerance policy of prosecuting every person who enters illegally, and she doesn't want to see families separated. She doesn't even support the president's border wall.
"I don't think they should be prosecuted just because they're crossing the border," she added.
© 2018 CBS Interactive Inc. All Rights Reserved.
[ad_2]