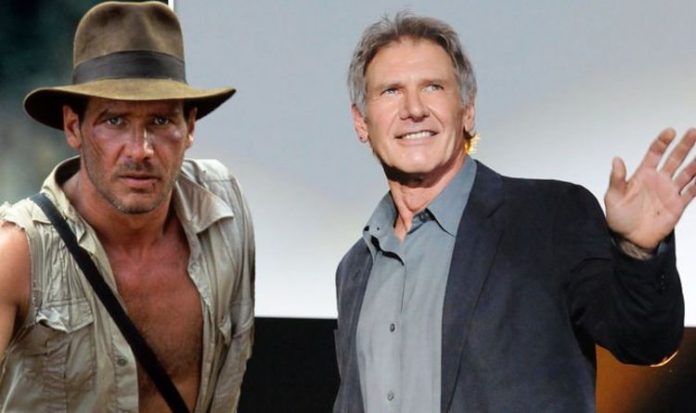 Indiana Jones has found a collection of artifacts and mystical items over the years, including the Holy Grail, and the Sankara Stones. So far in the franchise, Jones has been fighting to put these historic items in a museum, but the upcoming fifth movie will show him buck this trend while struggling with the perils of getting older. 
A new report reveals the fifth movie's plot, including what happens long after Jones dies.
The leak says the film will begin with Jones "learning of vials of immortal water from either the Fountain of Youth or the immortal peaches".
Harrison Ford's character will be a retired archeologist after settling down and getting married in the previous film, 2008's The Kingdom of the Crystal Skull.
Jones and his wife, Marion Ravenwood (Karen Allen), will be dragged out of retirement to chase this mystical water on an abandoned ship in the Bermuda Triangle.
READ MORE: Indiana Jones 5 Harrison Ford return: Exciting timeline news dropped
Once he gets his hands on the water Jones will drink some, causing him to get younger.
Incredible CGI will show Ford looking exactly as he did in 1981's The Raiders of the Lost Ark, with the young Indie featuring for a large portion of the movie.
However, his new found youth may not be all it's cracked up to be, with Jones yelling: "I belong in a museum.":
The archaeologist goes on to reject the powers of the Fountain of Youth and decides to become old once again.
The report's details are not finalised just yet, but the latest report at least reveals a sign of what is to come for Jones' final adventure.
Further details were teased by Indiana Jones 5's director, James Mangold.
The director hinted in a tweet that the film will take place in the mid-1960s, just over ten years after its previous film, Crystal Skull.
Mangold tweeted: "The Velvet Underground are f*****g great. That's it. That's my tweet."
He added: "(Note – I'm mentally living in 60's NYC [New York City] right now cause that's where all the movies I'm working on take place)."
Ford himself previously alluded to a less action-packed end to his character's story in a 2013 interview.
He said "We've seen the character develop and grow over a period of time.
"It's perfectly appropriate and okay for him to come back again with a great movie around him where he doesn't necessarily have to kick as much a*s."
Indiana Jones 5 is due for release on July 29, 2022.
READ THE ORIGINAL REPORT