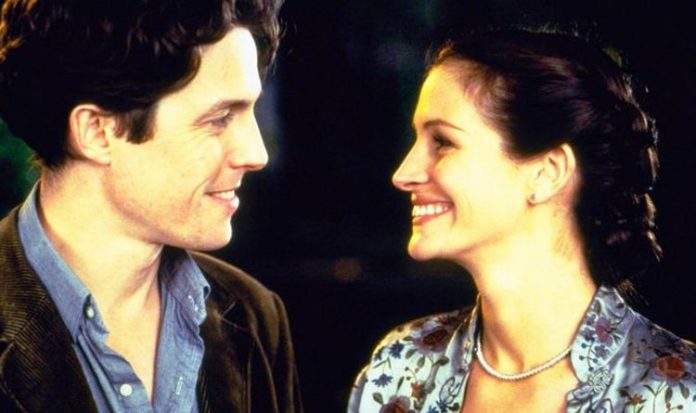 To celebrate the debut of The Undoing, Grant answered fan questions in a special Q&A, wittily called a Hugh and A. His new role as oncologist Jonathan Fraser seems far away from his traditional portrayal of romcom heroes and bumbling Brits in films like Notting Hill and Four Weddings and a Funeral. The actor has made a concerted effort to direct his career into less predictable and darker roles but fans still wanted to know about what comes next for his iconic bookseller William Thacker.
The film ends with Thacker finally marrying Julia Roberts' glamorous film star Anna Scot and settling down in the eponymous London neighborhood to start a family.
Grant was asked what happens next in their fabulous fantasy romance. He shocked (and delighted some) fans with his outrageous answer.
The actor said: "I would like to do a sequel to one of my own romantic comedies that shows what happened after those films ended. To really prove the terrible lie they all were, that it was a happy ending."
Grant didn't stop there and described in painful detail what comes next.
He said: "I'd like to do me and Julia and the hideous divorce that's ensued.
"With really expensive lawyers, children involved in a tug of love, floods of tears.
"Psychologically scarred forever. I'd love to do that film."
Unsurprising, fans were devastated to have the romcom bubble popped, although just as many others embraced the admittedly realistic idea.
One fan joked: "devastation is finding out that real-life Hugh Grant is more like Bridget Jones Hugh Grant than Notting Hill Hugh Grant or Love Actually Hugh Grant."
But when he is not being, well, Hugh Grant, who did the versatile star most like to play over the years?
"Jonathan, of course," he said, naming his character from the new show. "But I also have a very soft spot for Phoenix Buchanan from Paddington 2, the actor."
The actor also talked about how his approach to his craft has changed over the years.
With tongue firmly planted in cheek, Grant said: "Well, I have always hated acting but I hate it slightly less now than I did 20 years ago. I've got better, I got nicer as a person. I had children and a nice wife. Now I can do emotion and I'm rather proud of it."