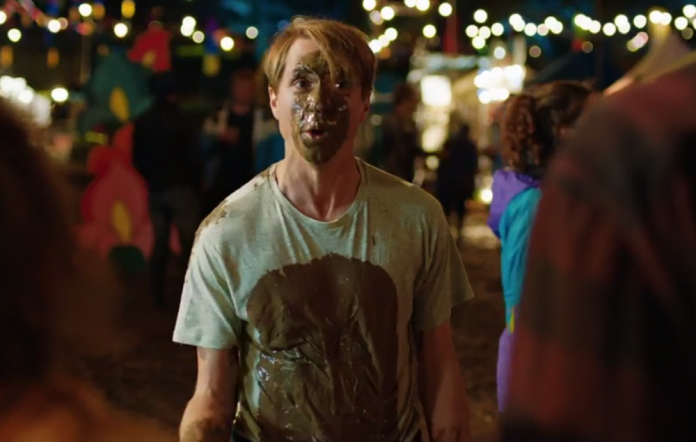 [ad_1]

Headlining cinemas this summer….
The hilarious first trailer for The Festival has arrived, and it's already bringing back the worst memories of spending an entire weekend in a muddy field. Watch it exclusively below on NME.com.
Directed by The Inbetweeners co-creator Iain Morris, The Festival tells the story of Nick (Joe Thomas), who heads to a music festival with his mates after he's unexpectedly dumped by his girlfriend.
Predictably, the event in question is a million miles away from the manicured lawns of Coachella and it isn't long before things begin to go seriously wrong.
In the first trailer, we're given the briefest of glimpses at dodgy nipple piercings, muddy fields, and the not-so-time-honoured tradition of having a drunk man's urine sprayed in your face.
There's also a sneak peek at some high-profile cameos too, including Nick Frost, Noel Fielding and Flight Of The Conchords' Jemaine Clement – who seems uncomfortably keen on extolling the virtues of genital hygiene.
All in all, it looks like a must-watch for any discerning fan of The Inbetweeners and, well, festivals.
Last year, NME witnessed a key scene from the film being filmed at Leeds Festival – with actual attendees becoming extras.
During the brief appearance, the main stage crowd were asked to "dance like you've been electrocuted and tasered" for a scene in the film that sees a DJ being electrocuted while a crowd mistakenly believes that he's "just doing the latest dance craze".
But Thomas was also reminded that he'll never escape the shadow of The Inbetweeners as thousands of fans began shouting "boner! boner!" at him.
Classic.
The Festival is set to arrive in UK cinemas on August 17.
[ad_2]