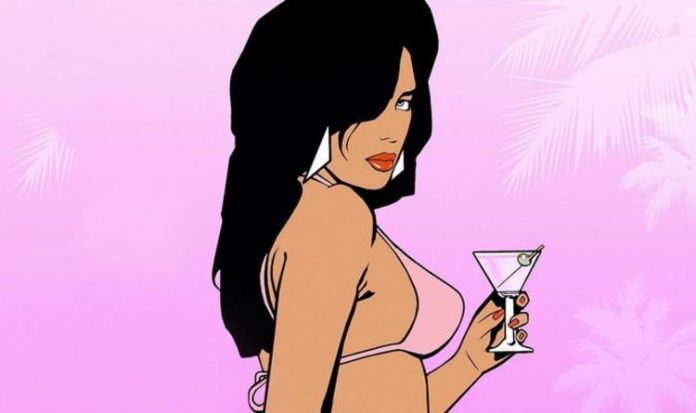 Grand Theft Auto fans have been left piecing together clues that could hint Rockstar are set to make a big announcement at Super Bowl LV today. During the last Super Bowl GTA fans thought Rockstar were subtly dropping hints about an inbound GTA 6 reveal. Last year's Super Bowl was held in Miami, and a number of broadcasters that were showing the NFL showpiece event aired GTA Vice City-style graphics during specific segments.
Some fans thought this was merely paying homage to the classic PS2 game.
Seeing as Vice City is Rockstar's fictional version of Miami, which is where Super Bowl 2020 took place, the reference seemed fitting.
However, others thought that this was a sign Rockstar Games were trying to create buzz and lay the groundwork for a future GTA reveal – as GTA 6 is widely rumoured to be taking place in Vice City.
And this rumour has begun making a comeback in the GTA community with this year's big NFL game – Super Bowl LV – once again taking place in Florida.
Ahead of the big game GTA fans have been left wondering if Rockstar Games are going to make some kind of an announcement.
On Twitter one GTA fan posted: "Imagine if GTA 6 is revealed/teased during the Super Bowl this week".
Another wrote: "They previewing GTA 6 during the Super Bowl".
And one added: "If they released a GTA VI trailer during the Super Bowl that would 100% be the best part".
The Super Bowl brings in huge viewing figures, with adverts during the game seen as prime time real estate in the US.
So fans have been left thinking the next Super Bowl would be the perfect high-profile event for Rockstar to make a GTA announcement.
And in the run-up to the Super Bowl rumours have emerged that Rockstar Games are set to announce their next project within the next few months.
This rumour originates from the GTA Forums, who have been known to leak unannounced information in the past.
A number of alleged credible leakers have been teasing that Rockstar Games' next project will get announced in the next 90 days.
However, while many have been hoping that the next big game coming from Rockstar Games would be GTA 6 according to leakers it will in fact by a remaster of the PS2 era GTA trilogy.
So that would be a remaster of GTA 3, GTA Vice City and GTA San Andreas.
Adding to these rumours was an admin from the GTA Forums tweeting out a picture of some "fan made shark cards".
On these cards were the numbers 2001/2002/2004/2013. These are the years that GTA 3, Vice City, San Andreas and GTA 5 launched.
Some fans have been taking this as a further hint of an inbound GTA Trilogy Remaster.
As always with rumours it's best to take this info with a big pinch of salt until official confirmation.
It remains to be seen whether Super Bowl LV will have any kind of announcement from Rockstar Games.
If there is it seems more likely that we could get a fresh look at the GTA 5 Enhanced Edition heading to PS5 and Xbox Series X later this year.
A reveal of the next big GTA game – whether that's GTA 6 or a Trilogy Remaster – at Super Bowl LV would be surprising as it would break with the way Rockstar has typically announced new games in the past.
But with it being over seven years since GTA 5 first came out and not a peep from Rockstar about the next mainline game the rumours are going to keep swirling around until GTA 6 officially gets announced.