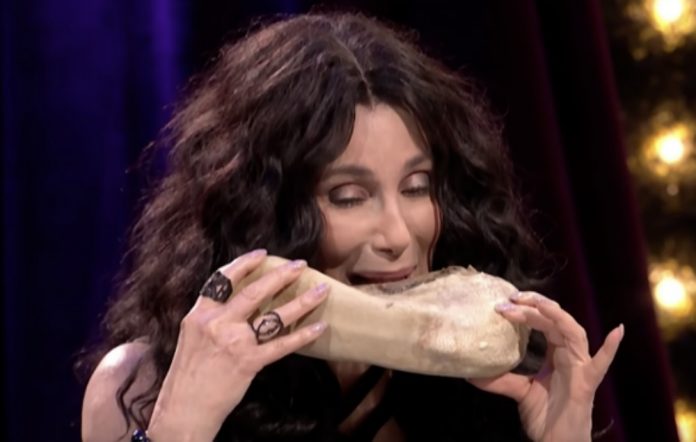 [ad_1]

"I can't say a single nice thing about him"
In a recent TV interview, Cher found herself unable to say a single nice thing about President Donald Trump – so chose to eat a cow's tongue instead. See footage below.
The icon was appearing on The Late Late Show with James Corden while it was being filmed in London this week, where she took part in the segment 'Spill Your Guts Or Fill Your Guts'. During the game, Corden pushed her to say just one nice thing about the controversial leader of the US.
"What's one nice thing about him?" she asked. "There's nothing nice about him – I can't say one nice thing about him."
She then picked up a cow's tongue from the table and took a sizeable bite. She also answered questions on who her top five favourite lovers were 'other than Tom Cruise'.
This comes after Cher made headlines last year when she hit back at a Trump-supporting Twitter user to task after her intention to take in young migrants.
After voicing opposition to President Donald Trump's controversial decision to end the Deferred Action for Childhood Arrivals (DACA) programme, Cher told her 3.42 million followers of her intention to take 'Dreamers' into her home and offer "sanctuary" and protection, before urging others who could to do the same.
However, one Twitter user poured scorn on Cher's declaration, writing in a now-deleted tweet: "Sure you will Cher… I'll believe it when I see it!"
Cher replied: "Then keep your eyes open, bitch."
[ad_2]