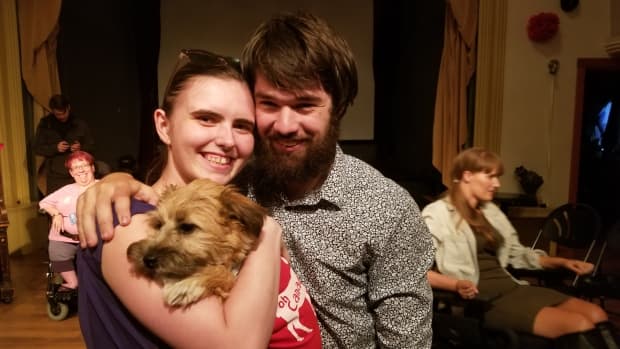 [ad_1]

A new Regina play hopes to dispel stereotypes disabled people face when it comes to relationships, whether they be friendships or intimate situations.
Mine to Have is put on by Listen to Dis theatre company for disabled and able-bodied people from June 20 to 23.
The play is a part of the Globe Theatre's Shumiatcher Sandbox Series and takes on topics of caregiver treatment for people with disabilities, friendships between those with disabilities and those without, questions that shouldn't be asked to people with disabilities and how people with disabilities can have intimate relationships.
John Loeppky is an actor and has a number of other roles with Listen to Dis. He said at their last show there were a lot of conversations about assumptions people face.
"Assumptions about relationships and sexuality and understandings that we had as people with disabilities or people who were close to disability that we didn't see in the wider context in Saskatchewan," Loeppky said. "I wanted to explore that."
Loeppky said when he was out with his girlfriend, Karlee Rabby, people would make a number of assumptions because she is able-bodied while he is in a wheelchair.
"Just the other day I got on the bus and the bus driver assumed that Karlee was going to strap me down as my care attendant as opposed to my girlfriend," Loeppky said.
John Loeppky said at one time he jokingly called the theatre company his harem. "Every time we go out in public it's assumed quite often that I'm in a relationship with at least one of the people in wheelchairs simply because we are both in wheelchairs." (Heidi Atter/CBC)
"They get quite the surprise when we then hug and kiss. I think people think that's a very close working relationship."​
Loeppky said how even when he was tense at the last show, he would relax whenever he was with Rabby. The director Traci Foster noticed it and said they were a part of the inspiration for Mine to Have.
Foster said she wanted to dispel the myth that people shouldn't be touched if they have a disability but said she went about it respectfully because sexuality "can be construed as a very taboo topic."
"There was this aspect that was brought forward quite often that touching somebody with a disability was inappropriate because you could possibly stimulate a desire that was hopefully dormant," she said.
There are a number of personal stories in the production of Mine to Have as the director gave the actors writing prompts at the beginning of creating the show. (Heidi Atter/CBC)
Foster said human wants and needs are natural and happen to people with disabilities. She said she's often seen people assume that those with disabilities do not have sexual desires or needs. 
"It's alarming and incredible and we have to find it hilarious," she said. 
"I do think it comes becomes in part in place from the stigmas of people looking at disabilities through a medical lens," she said. "And when we look through the lens of medical diagnosis, then we're looking at diagnosis not the human being."
Common questions
​Loeppky said when he first started dating Rabby a common question came up. Rabby told a group chat of her friends the two were dating and the first question was whether or not his penis worked.
"That is not unique. I have been asked while walking down the hallway how I have sex," Loeppky said. "It can be challenging to answer in a way that gets across that that question is inappropriate and we shouldn't be having this conversation."
We wanted to target things that were almost afraid to be spoken about.– Natasha Urkow, artist-in-residence at Listen to Dis
Natasha Urkow has been in a wheelchair since breaking her neck in a car accident when she was 18. She's now the artist-in-residence at Listen to Dis and said the play also paints a picture of everyday life.
"Having to depend on people to do absolutely everything for me," she said. "When people see someone like me on the surface they have no clue. They have no clue what it takes."
"I think shows like this are important for the public to see just because of how many questions go unanswered and how much curiosity is out there that people don't get answers for. Just to spread the word, spread the awareness, spread the message and inclusion that we oh-so-need."
"We wanted to target things that were almost afraid to be spoken about that so many people are ignorant of," Urkow said. "Kind of an 'Oh, that's how they do it.'"
Loeppky said the theatre was the place to dive into these topics.
"Theatre has this amazing ability as an art form to show sides to the world that aren't otherwise expected or understood. And in this case we're talking about sensuality and relationship and the political right to be in the body," Loeppky said. "And I think it's important to bring that to Saskatchewan to sort of disrupt some common held assumptions about disabled people."
[ad_2]