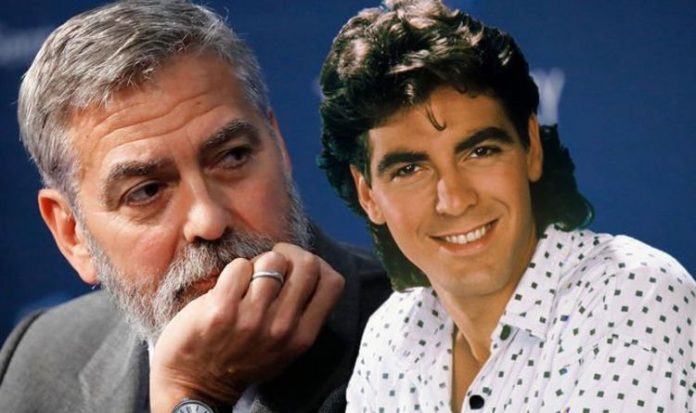 It is some comfort to mere mortal men than one of the most enduring heartthrobs of the past few decades has admitted that even he struggles with the passing of time. However, few faces, famous or otherwise, have aged as well as the former ER hunk. In fact, some might argue that he actually looks better now than he did in his rather gawky early days. So, what on Earth has he got to worry about?
George joined Graham Norton for tonight's show to promote his new end-of-times movie The Midnight Sky, in which he plays a tired and grizzled lone survivor after global catastrophe
Asked about this progression from playing sex symbol character, he said: "I was doing an interview the other day and they were saying, 'You used to be in all these movies like Out of Sight and Oceans 11, and is this now what you want to do with your career?'
"I was like, 'No. I don't want to play the old guy, it's called ageing and there is nothing I can do and about it, and if I could go back to 1998 I would!" 
George added: "As I am directing and casting it, I had Ethan Peck play as my younger self – he's 6'3", great looking and I'm like, 'Screw it, I'm hiring that guy!'"
The 59-year-old (who is only 5/11 himself) has also been opening up about his much-maligned turn as Batman back in 1997's Batman & Robin.
It is widely regarded as one of the worst comic book adaptations of all time.
Clooney, himself, agrees and says he can't bear to watch it now.
SCROLL DOWN TO WATCH GEORGE CLOONEY TALKING ABOUT BATMAN
Talking to US radio host Howard Stern, he said: "It's so bad that it actually hurts to watch, physically. I'll be flipping the channels and it will just pop up and I'll be like, 'No, no, no, no.'"
"The truth of the matter is, I was bad in it. Akiva Goldsman — who's won the Oscar for writing since then — he wrote the screenplay, and it's a terrible screenplay, he'll tell you.
"I'm terrible in it, I'll tell you. Joel Schumacher, who just passed away, directed it, and he'd say, 'Yeah, it didn't work.' We all whiffed on that one."
Clooney also points out that he had little control over the making of the film or the development of his character.
He said: "I couldn't have done that one differently, you know. It's a big machine. I just sort of jumped in and did what they said."
He also gave an idea of his relative importance and power on set by revealing that he was paid $1million for the role. It sounds impressive until he also drops the information that Arnold Schwarzennegger received $25million for playing the villain Mr Freeze.