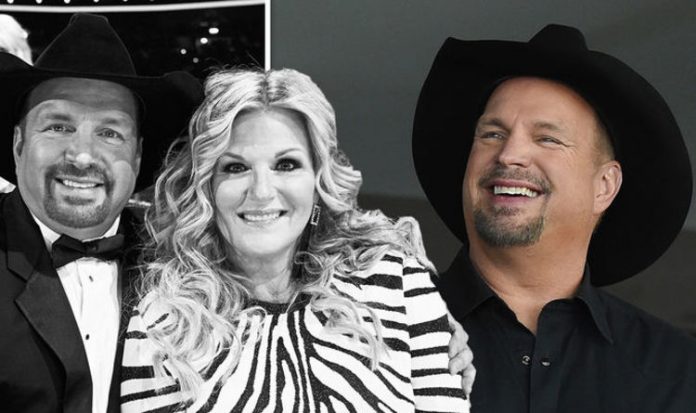 Garth Brooks has been making music and performing incredibly well since the 1990s. His wife, Trisha Yearwood, can also boast some major musical achievements since she made it big. The couple are a true country power couple – but was Garth married before Trisha?
As we know from William Shakespeare, the course of true love never did run smooth, and that was the case for Garth and Trisha.
Garth was married to his first wife, songwriter Sandy Mahl, on May 24, 1986.
While their relationship did not last, it saw them bring three children into the world, all of which took part in Garth's later wedding to Trisha.
The couple had Taylor, born 1992; August, born 1994; and Allie, born 1996.
READ MORE:  Frank Sinatra nickname: How did Frank gain his famous nickname?
According to Garth, while he was married to Sandy when he met Trisha, he felt he 'met his wife' when they got to know one another.
He told Ellen DeGeneres: "It's strange because I felt that feeling like when you just meet your wife, but I'd been married for 13 months…
"You keep hacking [at marriage], you work and you work, and then comes that time where you're looking at the rest of your life going, how do you want to live it?
"[Trisha] is somebody who I always enjoyed being around, and we had a lot more in common than I ever dreamed we did and we started seeing each other after the divorce, after we came off tour."
Trisha was also coupled up at this time, as she married her first husband, Chris Latham, in 1987.
In the early 1990s, Garth and Trisha met, and as Garth's career progressed, he helped Trisha by introducing her to executives who became interested in her voice and what she had to offer.
She signed with MCA Records and served as Garth's opening act on his 1991 tour, with her debut single, She's in Love with the Boy.
Their love lives continued to be complicated, however, before they finally ended up together.
DON'T MISS
Trisha married for a second time, this time to bass player Bobby Reynolds, in 1994, but they divorced five years later.
Speaking about this time, Trisha told Country Weekly: "Since I do hang on to the past with my fingernails, divorce was difficult…
"It's a serious decision involving someone you're tied to emotionally, so it's hard to move on.
"And it's easy to drag things out so you don't have to face people talking about you."
Garth and his first wife split in 2001, and in private, the pair's friendship slowly turned to romance.
They were first seen holding hands in public in 2002, after which their relationship was clear to the world.
In 2005, Garth proposed on stage in California, in front of 7,000 people, much like the proposal of Johnny Cash to June Carter.
Garth and Trisha married on December 10, 2005, at their home in Oklahoma, and together they have made joint albums and toured together
Speaking about how their relationship has worked over the years, Trisha told US Weekly in 2018: "We do date nights, but, honestly, we are apart maybe five days a year.
"We really have made a conscious effort since getting married to not be apart, so we've toured together.
"If I'm doing something, he'll be with me, even if you don't see him, he'll be in the hotel or around.
"And we're not always together, but we've been married before, and we decided we don't want to be apart.
"So [we said] let's make an effort to make sure that's our priority and we've been able to do it."