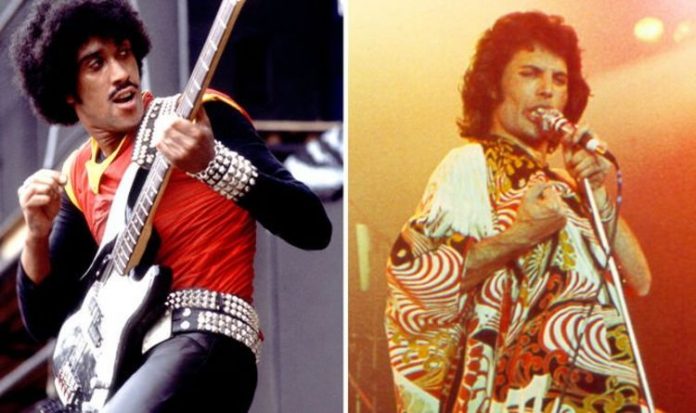 Back in 1977, Queen embarked on their 1977 North American tour to promote their fifth studio album A Day at the Races. Supporting the band throughout was Thin Lizzy and it turns out Freddie Mercury "totally inspired" their frontman Phil Lynott. Emer Reynolds, the director of new documentary film Phil Lynott: Songs For While I'm Away, made the reveal during an exclusive interview with Express.co.uk.
Emer said that while Phil was particularly influenced by Elvis and Jimi Hendrix's music, the Thin Lizzy legend was "totally inspired by the treatment that Freddie got" during that 1977 Queen tour.
The filmmaker pointed out how the bassist was particularly taken by Freddie's planes from venue to venue.
Not to mention the white limousines and someone being at his beck and call.
She said: "I don't know if it was to do with the performances as much as realising that maybe he was inspired in terms of Freddie's rider!"
READ MORE: Thin Lizzy: How The Boys Are Back In Town SURPRISED Phil Lynott
Reminiscing, Thin Lizzy guitarist Scott Gorham told us: "That was really a great tour.
"That tour, above all the others we did with a lot really big bands, that was the one that really shoved us to the fore.
"Nobody in America had seen us and being on stage was our main stomping ground. And Queen really gave us a chance to do that; to show the American public what Thin Lizzy was all about and what we could do."
The 69-year-old also said how Queen and Thin Lizzy got on really well.
Phil sadly died from pneumonia and heart failure at the age of just 36-years-old on January 4, 1986.
While Freddie died from AIDS-related bronchial pneumonia just five years later on November 24, 1991, at the age of 45.
Both Thin Lizzy and Queen have continued each of their frontman's legacy to this day.
While Brian May and Roger Taylor still tour and perform as Queen and Adam Lambert, Scott formed Black Star Riders.
Gorham formed Black Star Riders in 2012, deciding not to continue with the Thin Lizzy name out of respect to Phil.
He told Express.co.uk in 2017: "It seemed like in every interview I was asked, 'When are Thin Lizzy going to do more material?'"
"To do a Thin Lizzy album without Phil on there would just seem incredibly wrong. So we decided to pick a new name, write new songs, get a deal and see what happens."
Phil Lynott: Songs For While I'm Away released in UK cinemas on October 30. See www.phillynottfilm.com for further information & tickets. Thin Lizzy Rock Legends super deluxe edition is out now.