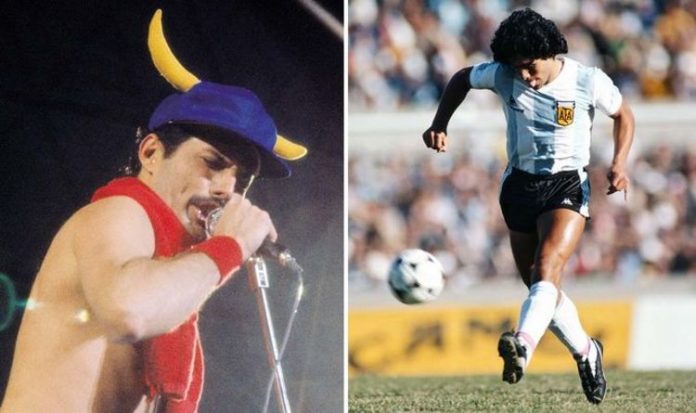 Earlier this week, Diego Maradona, regarded as one of the greatest footballers of all-time, died at the age of 60. Celebrities have been pouring out their tributes to the sports legend online, including Queen's Brian May and Roger Taylor. The rock stars took to Instagram to share a couple of pictures of themselves with John Deacon, Freddie Mercury and Maradona from almost 40 years ago.
Brian May wrote: "Half Angel, Half Devil, they said … and all genius.
"Greatest Of All Time ? I wouldn't know. But a wonderful talent."
The 73-year-old Queen guitarist said how the band enjoyed spending time with Maradona when the band played Velez Sarsfield Stadium in Buenos Aires back in 1981.
Maradona, just 20-years-old at the time, was pictured wearing a Union Jack T-shirt in support of the British musicians.
READ MORE: Freddie's final days: Brian May 'Press were WRONG about how he died'
May continued: "He came on stage with us, to a massive roar. And that's my T-shirt he's wearing here … bless him. RIP DIEGO MARADONA.
"Too young. So sad. Wish I could have got my heart specialist to him to save him like I was saved. Bri."
The Queen legend was referencing the fact that he'd suffered a heart attack earlier this year at home in London during the lockdown, but was now on the mend.
Meanwhile, Queen drummer Roger Taylor shared another picture from the same photoshoot, with Freddie Mercury holding his arms outstretched.
Queen also performed two concerts at the Morumbi Stadium in São Paulo, Brazil, playing to an audience of 131,000 on their first night there and 120,000 the following night.
The year 1981 also saw Queen release their Greatest Hits record which to date is the best-selling album of all time in the UK, while in total it has sold over 25 million units worldwide.
And now for the first time, almost 40 years after its original release, the Freddie Mercury-led record has hit the Billboard 200's Top 10 in the US.
Queen's Greatest Hits skyrocketed up from No 36 to No 8 after 412 weeks on the Billboard 200 chart.
The compilation record's previous peak was No 11, which was hit back in 1992.
Queen's Greatest Hits, which is a 9X Platinum-selling collection, also impressively took No 1 on Billboard's Vinyl Albums Chart.
Just 11 albums have taken 10 years or more to break into the Billboard 200's Top 10. Only one album beat Queen's Greatest Hits' 39 years and one month after release record.
And it was Nat King Cole's The Christmas Song, which took 55 years to enter the Billboard 200's Top 10 after its 1963 release.