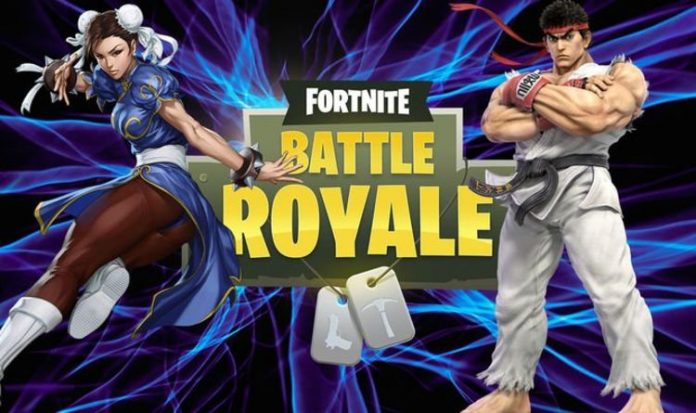 UPDATE: An awesome new Fortnite x Street Fighter trailer appears to have been leaked online.
The trailer – which you can see below – sees Ryu and Chun-Li transported into the world of Fortnite Battle Royale.
While there's always a chance it could be fake, it looks pretty legitimate to me. You can take a look at the leaked trailer below.
ORIGINAL: Fortnite developer Epic Games is teaming up with Capcom for the next major in-game crossover.
Even in a season with guest characters such as Predator, The Mandalorian, The Terminator, Master Chief and Kratos, the next crossover may be the best yet.
According to the latest reports, Street Fighter characters are coming to Fortnite.
One prominent Fortnite leaker has found evidence of a Fortnite x Street Fighter crossover for Battle Royale.
Street Fighter's Suzaku Castle has appeared in leaked images, alongside a distorted version of Ryu's battle theme.
Male and female Street Fighter characters are tipped to join the game, which probably means Ryu and Chun-Li.
There's no word on when the skins will be available in the item shop, but we wouldn't rule out a midnight release on February 20.
As high-profile guest skins, the Street Fighter content should stick around for a few days, and will likely make a return before the end of the season.
The news comes just days after the release of a big new Fortnite update on all platforms.
The new Fortnite update brings back the Flintlock Pistol, added some fan favourite LTMs, and made more Exotic weapons available from in-game vendors.
Epic Games also laid the foundations for this weekend's Short Nite event in Party Royale.
Kicking off at 7pm GMT on February 20, the Short Nite event is a film festival that takes place in Party Royale.
"This week, Fortnite is re-creating your favorite film festival – virtually. "Short Nite" on the Big Screen in Party Royale will feature 12 acclaimed animated short films for players and their friends to enjoy."
Elsewhere, fans discovered a whole host of new skins coming to the game in the next couple of weeks.
The new skins and variants of existing skins include Sica, Xander and Britestorm Bomber.
Even more exciting is the appearance of a brand new Legendary Glider, which will set you back a fair amount of V-Bucks.
The Cerberus Glider is part of the Vanquisher Set, which also includes the Sica skin and the Arena's Blessing Harvesting Tool.
There was no mention of any Street Fighter skins, so it's possible the next crossover costumes will launch next week instead.