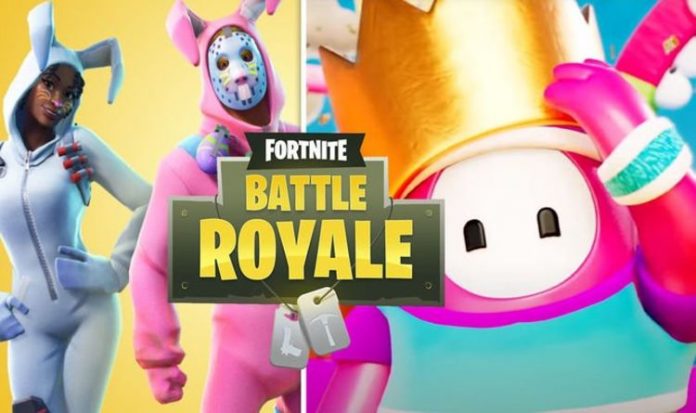 Two hugely popular games look set to team up in the near future, as Fortnite references are found within Fall Guys.
According to the Max // Fortnite Leaks Twitter account, Fortnite skins will soon be available to purchase in Fall Guys.
This includes skins based on popular Fortnite characters such as the Llama, Cuddle Team Leader, Peely, Bunny Brawler and Ripley.
Based on the appearance of Bunny Brawler, the Fortnite x Fall Guys crossover event is tipped to take place around Easter time in early April.
What's less clear is whether Fall Guys will be represented in a similar fashion within Fortnite.
Speaking of crossovers, Fortnite fans are waiting for The Flash to make an appearance within the Battle Royale phenomenon.
The latest guest character was teased during a new Reality Log posted to Twitter.
Not only was the target described as being really, really fast, but the log was recorded in a coffee shop that began with the initials "CC" [Jitters].
There's no word on a release date, although we wouldn't be surprised to see The Flash make an appearance within the next couple of days.
As for Fall Guys, developer Mediatonic is certainly no stranger to crossovers.
Fall Guys has already teamed up with popular gaming franchises such as Sonic the Hedgehog and Untitled Goose Game.
Mediatonic has promised even more costumes as part of the latest mod-season update.
Inspired by TV shows such as Takeshi's Castle, the game sees dozens of players compete to become the last person standing in a series of mini-games.
One minute you'll be racing through an obstacle course, while the next you're trying to balance on spinning platforms.
"Fall Guys: Ultimate Knockout flings hordes of contestants together online in a mad dash through round after round of escalating chaos until one victor remains!
"Battle bizarre obstacles, shove through unruly competitors, and overcome the unbending laws of physics as you stumble towards greatness. Leave your dignity at the door and prepare for hilarious failure in your quest to claim the crown!"
The game also features an extensive customisation suite, letting players dress up in all kinds of different costumes and colours.