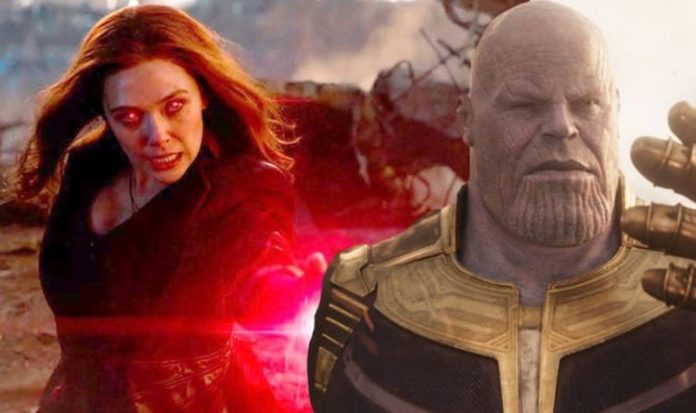 Marvel's Disney Plus show WandaVision explores the subtle powers within Scarlet Witch. So far in the series it has been revealed she created an entire world of her own design and even summoned two magical sons. During episode five of the series, On a Very Special Episode, Wanda's battle against Thanos was brought up by Dr Darcy Lewis and Monica Rambeau where her powers were detailed even further.
Darcy and Monica discussed Wanda's hidden powers before bringing up that the Avenger did almost succeed in defeating Thanos during Avengers Endgame.
Monica commented: "She could have taken out Thanos on her own if he hadn't initiated a blitz."
This comment confirms Scarlet Witch would have been able to defeat the heinous villain during their battle if he didn't fight dirty. 
When Wanda stepped up to Thanos in the movie she screamed: "You took everything from me!" before almost destroying him using her magic.
READ MORE: Captain America replacement shown in Falcon trailer
WATCH THE SCENE BELOW
Thanos was stripped of his armour, prompting him to command: "Rain fire!"
The attack from his spaceship that followed blasted Scarlet Witch, allowing Thanos to escape.
Scarlet Witch being one of the strongest heroes makes sense because her powers were originally given to her by Hydra when they were testing the Mind Stone in Avengers: Age of Ultron.
The relic was later used to give life to Vision, before it was ripped out by Thanos to complete the Infinity Gauntlet.
Because his version of Quicksilver is part of 20th Century Studios' X-Men franchise, Peters' role didn't exist in the MCU – until now.
So Peters replacing Taylor-Johnson is a big deal for the Marvel Cinematic Universe because it has begun including mutants into the storyline.
WandaVision writer Jac Schaeffer recently spoke up about bringing Peters into the show to play Quicksilver.
He said: "We were rooting for it for so long, and didn't know if it would be possible."
Schaeffer continued: "It was complicated to make happen. Evan [Peters] was always up for it – like, always, always, always.
"He is a comic book fan, and a Marvel fan. He is always up for the absolute weirdest option. And he's a pleasure – truly a pleasure to work with."
He added: "We just thought it would be the biggest thrill to bring Evan over to the Marvel Cinematic Universe."
Avengers Endgame, WandaVision and all other MCU movies are available on Disney Plus now.