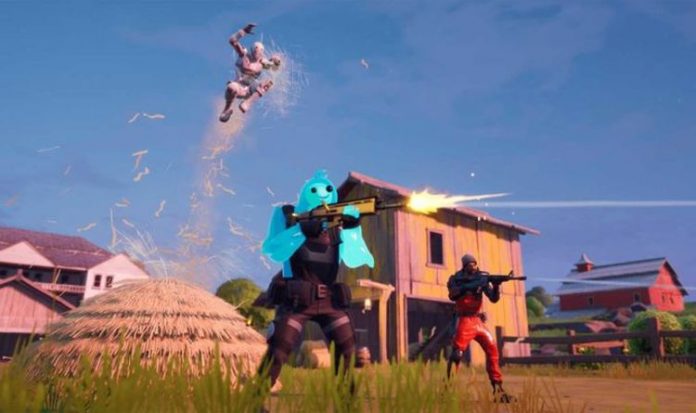 According to a new rumour, a new Fortnite live event is kicking off this week on PS4, Xbox One, PC, Nintendo Switch, Mobile and next-gen consoles.
New Year's Eve will reportedly include a big lights show that will be available to watch as 2020 ends in-game.
It should be noted that Epic Games has yet to share these plans, and they remain unconfirmed for now.
But according to the latest leaks, Epic Games is planning one final Fortnite live event for 2020.
This will reportedly include fireworks and a new rift opening in the sky, which will no doubt fit in with the current Season 5 storyline.
Footage has been shared online by the IntheShade Twitter account and can be viewed on the social media channel.
As always, it's worth taking everything with a pinch of salt until we know for certain what Epic Games has planned.
But as the company are known for launching New Year's events in the past, it wouldn't be surprising to learn something is being planned for the start of 2021.
A new rift appearing in the sky would also make sense, as we already know that more characters will be arriving in Fortnite Season 5.
As the official description confirms for Season 5: "The zero point is exposed, but no one escapes the loop, not on your watch. Join agent jones and the greatest hunters from across realities like the Mandalorian in a chaotic battle that will shape the future of the island…
"The hunters on the island are only the first to arrive from outside the loop… throughout the season, agent jones will bring in even more hunters from the realities beyond. Who will be next?
We would expect this new Fortnite live event to start around midnight local time on December 31/January 1, but we will have to wait for the official details from Epic Games.
The development team already have several events planned and running during this period, including Operation Snowdown.
Running until January 5, Fortnite gamers have the chance of unlocking new content for the game by completing challenges.
A message from Epic Games adds: "Complete Snowmando's Quests for free Outfits and more, fly planes through the chilly skies, play fan-favourite LTMs, and enjoy the snowy scenery.
"Over the course of Operation Snowdown, Snowmando will offer Quests you can complete for free rewards, including the perfectly-wrapped Shield Surprise Back Bling, the snowglobe-topped Frosty Globes Pickaxe, as well as Gliders, Wraps, another Back Bling and Pickaxe, and more.
"If you complete nine Operation Snowdown Quests, you'll unlock the Snowmando Outfit, and if you complete twelve, you'll unlock the winter-inspired Frost Squad Outfit. Both Outfits are free.
"Having a battle-filled background, Snowmando has brought in wintery items from his piercing past. Take flight in Snowmando's custom X-4 Stormwing planes, and on the ground, disguise yourself as an ordinary snowman with Sneaky Snowmandos, cause cold feet with Chiller Grenades, and gift yourself loot with Snowmando-wrapped Presents."
Epic Games has also announced that they will be launching a new DC skin on December 31.
Green Arrow arrives exclusively for all Fortnite Crew members on December 31st at 7 PM ET, and to claim the January Crew Pack, you may need to login from your original purchasing platform if it has been more than 30 days since last login from that platform.