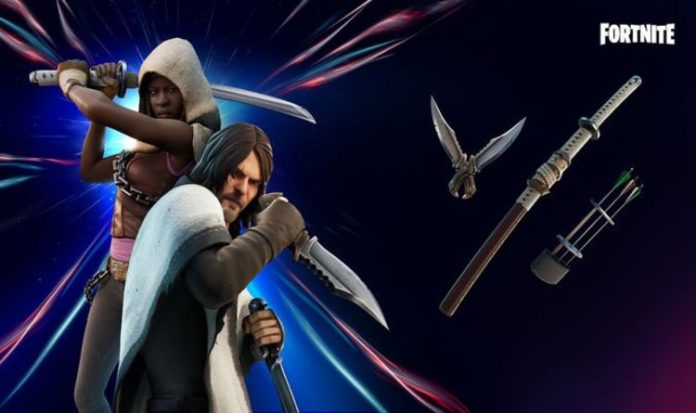 Fortnite fans can finally grab the Walking Dead skins as part of the latest item shop update.
The December 17 item shop update (or December 16 for fans living in the US) adds skins for popular Walking Dead characters Daryl Dixon and Michonne.
The outfits are available for 1,800 V-bucks each, and both come with a new back-bling and pickaxe. This includes Daryl's knife and Michonne's katana.
Alternatively, you can purchase the new skins as a double pack, costing just 2,500 V-bucks for the pair.
"Walkers and fellow Hunters have something to fear. Daryl Dixon and Michonne are the newest Hunters to arrive in Fortnite," reads the official Epic description.
"The Survivors in Arms set has arrived at the Item Shop. The Daryl and Michonne Outfits come with variant Styles, Desperado Daryl and Cloaked Michonne. Facing evil brings good people together!
"Also included in the Survivors in Arms set are the Hunting Quiver and Michonne's Katana Back Blings. Michonne's Katana can also be unsheathed and used as a pickaxe, or you can equip Daryl's Knife. Stay sharp if you want to survive."
Needless to say, the Walking Dead skins join the existing batch of festive skins available for Fortnite fans.
Fortnite crossovers have been a regular occurrence in 2020. Indeed, Season 4 was dedicated entirely to the Marvel Universe.
The new season, meanwhile, kicked off with the surprise reveal of The Mandalorian as a new playable character.
The Star Wars character joins a host of hunters from multiple different realities, including Kratos from God of War, and Master Chief from Halo.
New leaks suggest that even more Marvel characters are on the way, including Captain Marvel, Taskmaster and Black Panther.
There are even reports that Black Panther could launch alongside a set of missions for some extra bonuses.
Speaking of new skins, other leaks suggest Green Arrow will be the next skin available for free to Fortnite Crew subscribers.
Crew members will also reportedly receive the quiver back bling, and boxing glove pickaxe, not to mention 1,000 V-bucks.
Other new skins include the Snowmando and Frost Squad outfits, which will be available as part of the Winterfest Snowdown event.
Players will seemingly unlock the Snowmando skin by completing seven Snowdown challenges, followed by the Frost Squad costume after 12 challenges.