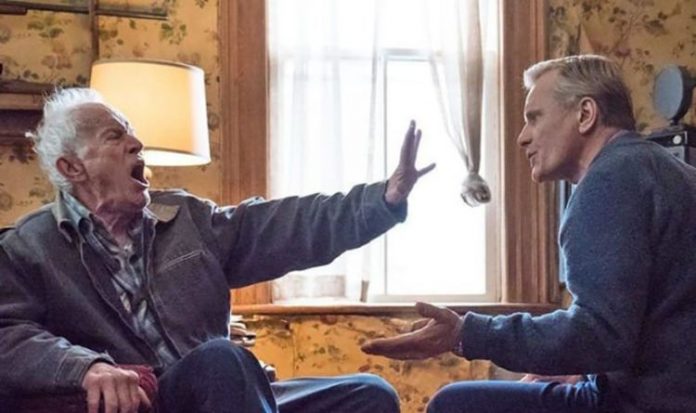 Falling is the latest drama movie to come to cinemas, with Viggo Mortensen at the helm. Viggo is famed for his turn as Aragorn in the Lord of the Rings trilogy, while also starring in Oscar-winning movie Green Book. But when is his latest movie Falling coming out in cinemas, and is it available to stream?
When is Falling coming out in cinemas?
Falling is coming to cinemas on December 4, right in time for the festive season.
Not only does it star Viggo Mortensen, but the multi-talented performer also wrote, directed and wrote the music for the film.
The film was part of the Official Selection at the Cannes Film Festival this year, though this festival took place in a slightly different way than usual due to the Covid-19 restrictions.
READ MORE:  James Bond GoldenEye: When was Pierce Brosnan debut GoldenEye made?
The festival was meant to take place in May, but was rescheduled to October and instead featured only a select number of movies on the big screen.
Instead, all the official selection films were made available through other means for a short period of time, but no competition took place as it would normally.
Falling did have a big-screen debut at the Sundance Film Festival in January of this year, however, so it did get the chance to be played on the big screen for a festival audience.
Now, it will be available again to watch on the big screen, and at present no video-on-demand or streaming option has been made available.
What is Falling about?
The official synopsis for Falling reads: "Falling is a sensitive, beautifully crafted debut from the multi-talented Mortensen, who wrote, directed and scored the film.
"Rooted in Mortensen's own upbringing and relationship with his parents, the film explores universal themes of loss, pain, and the need to connect, with a powerhouse performance by [Lance] Henriksen at its core.
"John Petersen (played by Viggo Mortensen) lives with his partner Eric (Terry Chen) and their adopted daughter Monica in Southern California.
DON'T MISS
"His father Willis (Lance Henriksen/Sverrir Gudnason) is a farmer whose attitudes and behaviour belong to a far more traditional era and family model.
"When Willis travels to Los Angeles for an indefinite stay with John's family in order to search for a place to retire, these two very different worlds collide.
"As father and son confront the events that have torn them apart, their 40-year-relationship is explored from dark to light, from rage and jealousy through to acceptance, laughter, and hard-won grace."
The film also stars Laura Linney, as John's sister Sarah, as well as three young actors playing a younger John at different points in his adolescence.
Canadian actor Paul Gross and his daughter and Mindhunter actress Hannah Gross also have roles in the film, as well as director David Cronenburg.
The film has had good reviews from critics, however, the difficult subject matter has meant some considered the film "hard to watch," but still very much worth seeing.
Critic Mark Kermode, for example, summed up the film in saying: "It's well made, it's very well played, and it's very hard to watch."
However, for those craving a challenge from cinema after months of closed cinemas, they may be a perfect option.
Falling is in UK cinemas from December 4