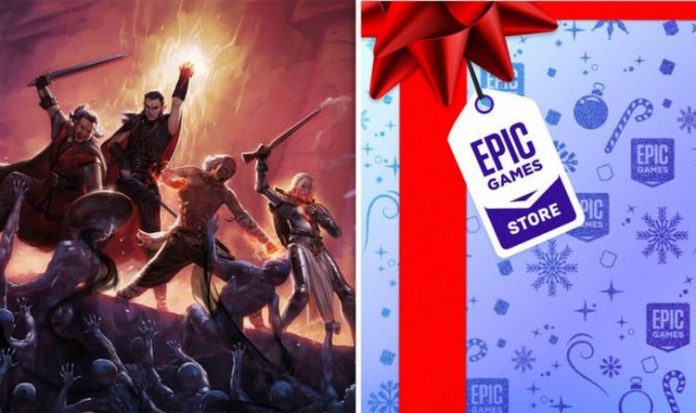 Epic Game Store customers are a week away from one of the biggest gaming giveaways ever.
As part of its ongoing efforts to dethrone Steam, Epic is giving away a whopping 15 games for free over the Christmas period.
It's actually more than 15 games, because Epic has already started giving away some games for free.
Indeed, it all begins with epic role-playing game (pardon the pun) Pillars of Eternity Definitive Edition, which is available as a free download right now.
Pillars of Eternity is joined by Tyranny – Gold Edition, which includes the base game and all DLC.
The actual 15 Days of Free Games scheme launches alongside Epic's Holiday Sale on December 17.
"We're getting ready for the season of giving with our most festive sale of the year!
"The Epic Games Store Holiday Sale begins on December 17, and we've got some goodies in store for you. Unwrap deals up to 75% off, but that's not all…" reads the Epic description.
"Also starting December 17, we'll be giving away a new game each day for two weeks straight – that's right, it's 15 Days of Free Games! Each game will be free to claim for just 24 hours, but they're yours to keep forever."
Epic is also keen to promote its new wishlist feature, telling customers to start adding games now, just in case they go on sale.
"Now is the perfect time to browse and add any games you're interested in to your Wishlist while logged in to your Epic account – you'll receive a notification if they go on sale."
In the meantime, Pillars of Eternity Definitive Edition should keep customers busy until the free game giveaway.
The role-playing game is developed by Obsidian Entertainment, the team behind RPGs such as Fallout New Vegas and South Park: The Stick of Truth.
"Obsidian Entertainment, the developer of Fallout: New Vegas and South Park: The Stick of Truth, together with Paradox Interactive bring you to the original and incredible world of Eora, and send you on an unforgettable adventure where the choices you make and the paths you choose shape your destiny," reads the official description.
"Recapture the deep sense of exploration, the joy of a pulsating adventure, and the thrill of leading your own band of companions across a new fantasy realm and into the depths of monster-infested dungeons in search of lost treasures and ancient mysteries.
"The Definitive Edition includes the award-winning Pillars of Eternity alongside its expansions, The White March: Parts I & II, as well as all bonus content from the Royal Edition."
It's joined by Tyranny – Gold Edition, which is another epic role-playing game with a deep story.
"Experience a new chapter of Tyranny, the critically-acclaimed role-playing game (RPG), in Bastard's Wound, a new expansion that builds upon the game's compelling story.
"Delve deeper into the mysteries of Terratus as you bring Kyros' justice (or your own version of it) to a new corner of the Tiers.
"In addition to the new region, Bastard's Wound gives you a chance to learn more about your party in a trio of companion quests featuring Lantry, Verse, and Barik."