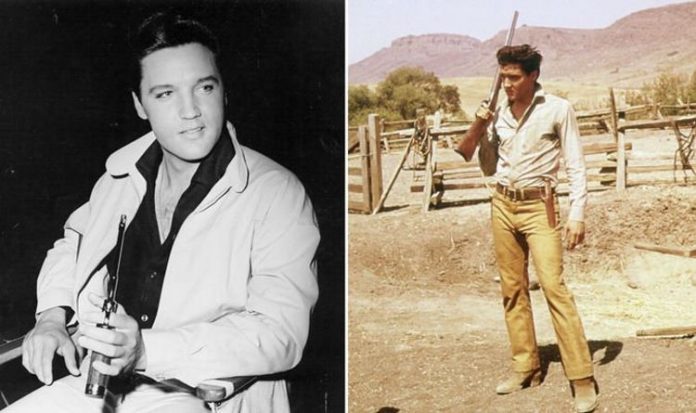 Elvis Presley famously loved guns and according to his cousin had a "beautiful" collection. Speaking in a new video, Memphis Mafia member Billy Smith said: "Elvis was fascinated with guns – loved them." The King's cousin remembers one of his favourites was an over and under like the one General Omar Bradley would carry.
Bradley was a senior US Army officer who after World War II became General of the Army.
Elvis' cousin remembering the weapon said: "It was a beautiful gun."
Not only did The King enjoy keeping firearms, but Billy says he "always carried a gun on him."
In fact, The King really would take a gun with him wherever he went, even into the restroom.
READ MORE: Elvis Presley became 'really eccentric with guns' after death threat
Half a century ago in 1970, The King recorded his Las Vegas residency for the movie Elvis: That's The Way It Is.
During the movie, the star walks through the audience to kiss women as he sings one of his hits.
However, it turns out this was quickly stopped after a death threat was made against Elvis.
English shared: "He got really eccentric with guns after this death threat."
The Elvis expert added: "So all through the autumn of 1970, he started to collect – almost obsessively – guns and contacted lots of police forces around the country.
"He would fly to their headquarters, donate money and then they would give him a badge.
"He did some fairly eccentric things, going further into the seventies."
In fact, on display at Graceland to this day is one of the TVs Elvis shot because he didn't like what he was watching.