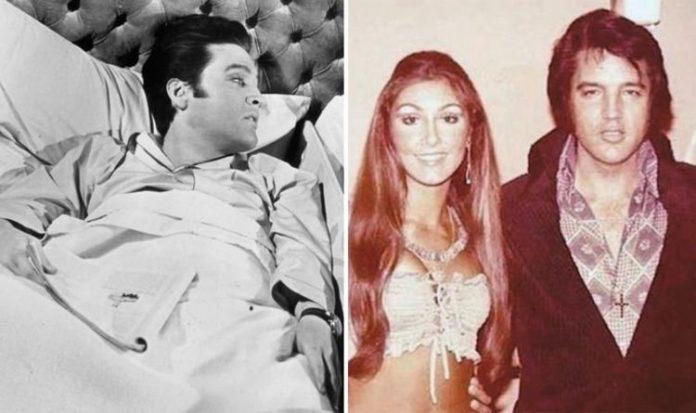 Elvis Presley's Memphis mansion may be open to the public, but his private area in Graceland's upstairs is off-limits. The King's daughter Lisa Marie Presley has her own personal key for the secret area, while she requires the space be perfectly preserved just as her father left it. According to Graceland archivist Angie Marchese, whose job it is to do this, the maintenance is right down to the detail as thought The King just got up and left.
Earlier this year, during an Instagram Live Q&A tour of Graceland, the Elvis historian shared how the last record The King played is still on his record player.
While there's even a styrofoam cup that remains on a bookshelf up there, where Lisa Marie sometimes stays when she visits her family home.
Of course, aside from her mother Priscilla Presley, The King went on to have girlfriends who lived with him up there after his divorce.
They include Miss Tennessee USA Linda Thompson who dated Elvis from 1972 to 1976.
READ MORE: Elvis Presley: Graceland share facts about King's Las Vegas jumpsuits
But it's how he had his TVs in the bedroom that was particularly extravagant in the most Elvis way possible.
Billy continued: "Later he also had TVs put in the ceiling so if you [lay down and looked up on the bed] you could see TV [and] you'd never have to sit up.
His wife added: "And he also had a TV at the end of the bed."
In terms of Elvis' bed, Billy said it was really huge, being custom made as an oversized King (for The King) with dimensions of around 7 by 9 with a mirror behind it.
While Lisa Marie previously told Lorraine in 2018 that Elvis' bedroom was very "showy"
The 52-year-old said: "It's got a long shag carpet, black bed, red walls. Gold everything here and there."
Elvis' daughter admitted that Elvis' bedroom was a sanctuary to him and it's where she feels most safe out of anywhere in the whole world.
Aside from Elvis' bedroom, Graceland's upstairs also features The King's office, his dressing area, bathroom and Lisa Marie's bedroom.