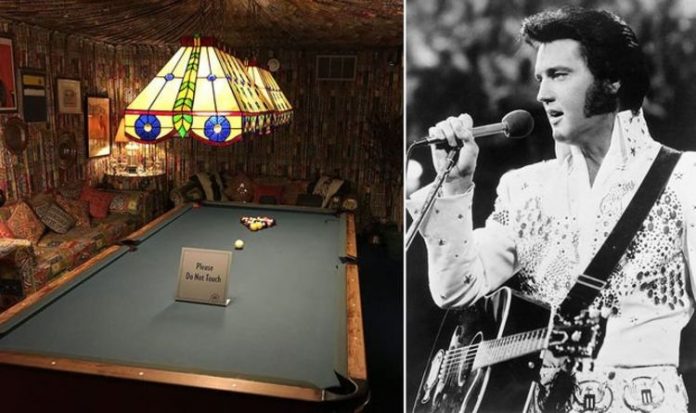 Elvis Presley's Graceland was The King of Rock and Roll's very own mansion and playground. Opened to the public in 1982, fans can tour through the eclectic spaces like the Jungle Room. But down in the basement was Elvis' very own pool room, just next door to where he'd watch three TV screens at once.
Graceland's pool room has around 400 yards of patterned fabric on the walls and ceiling which took three men 10 days to cut and hang.
Elvis had gotten the idea from a magazine with a picture of an 18th-century billiards room.
The pool table itself has been there since 1960 and was one of the first items Elvis bought when he returned home from the army.
During last month's virtual live tour of Graceland, which Express.co.uk attended, Elvis expert and archivist Angie Marchese shared how The King's favourite games to play here were eight-ball and rotation, in a room that his daughter Lisa Marie has said always had a lot of mayhem going on.
READ MORE: Elvis Presley's karate demonstrations left hidden damage at Graceland
During the virtual live tour, Angie was asked by one fan what was in the brass chest of drawers.
The Graceland expert opened them up to reveal, as you would expect, some pool supplies.
These included an extra blue No 2 pool ball, a whole box of billiard chalk including one that hasn't even been used, plus a Japanese bottom of a pool cue.
But there was one item that baffled even the Graceland archivist, who has worked at the mansion for over 30 years.
It's the case throughout the mansion that whatever Elvis and his family members left in the drawers at Graceland are largely preserved and kept where they were found in 1982. And, of course, there are always stories behind such items.
One fascinating example is the "secret drawer" located in the corridor next to the kitchen on the way to the Jungle Room from the front door.
In fact, it's right by where fans walk during the regular in-person tour of Graceland.
On our tour, Angie opened the drawer and written inside you can see Lisa Marie's graffiti which reads, "Lisa's home Graceland" with a smiley face.
Also inside the drawer is a 1993 phonebook, which may seem quite random but the Elvis historian revealed it was owned by The King's Aunt Delta Mae, who lived at Graceland until 1993.
She was the sister of Elvis' father Vernon Presley, who was invited to live at Graceland with the rest of the extended family when her husband died in 1966.
Even after Elvis died in 1977 and tours of his home began in 1982, Aunt Delta still lived at Graceland using her bedroom and the kitchen for the rest of her life.
This meant those rooms were off-limits to the public at the time in order to accommodate her before she died in 1993 at the age of 74.