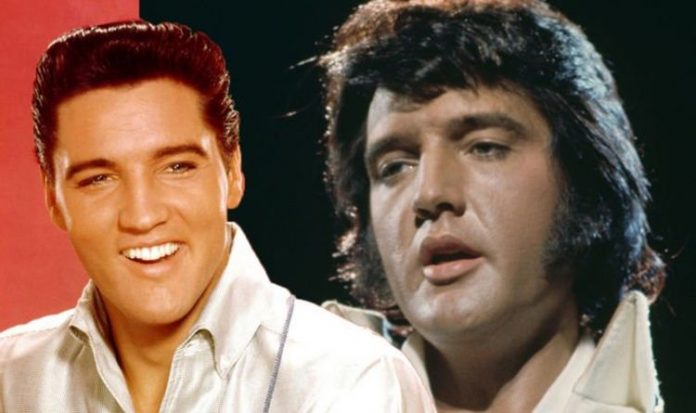 Elvis Presley started out life recording tracks to make his mother, Gladys, proud of him. Soon it became clear this singer had star quality, so Elvis turned his hobby into a long career which saw him win three Grammy Awards, the Grammy Lifetime Achievement Award at just 36-years-old and become known around the world as the the "King of Rock and Roll".
How old was Elvis when he had his first Number One?
This is, as many might expect, a bit of a difficult question to answer.
There are two songs which fight as being Elvis' first Number One, and it is difficult to decipher which one is the true track.
I Forgot to Remember, Elvis' final track with Sun Records, is often considered to be his first Number One.
READ MORE:  Playlist for working from home: Taylor Swift to Ariana Grande
The track was released on August 20, 1955, making Elvis 20-years-old, and quickly went to the top of the country and western charts.
However, others would say this chart is not the official, overall top singles chart, as it instead focuses only on one genre.
Elvis' first single to get to the top of the Billboard Hot 100, the chart which goes across genres, was Heartbreak Hotel, which released on January 27, 1956 – making Elvis 21-years-old.
The song was written by high school teacher Mae Boren Axton and singer-songwriter Tommy Durden and is based on a newspaper article which described the suicide of a man who jumped from a hotel window.
However, years later another story was put forward as the true tale behind the song.
Alvin Krolik, went down a criminal path after a failed marriage and struggles to become a famed writer.
He staged a number of armed robberies, but later confessed to police saying the guilt and pain of his situation became unbearable.
He was reported to have written a memoir which eventually found its way to a New York publisher, which saw Alvin allegedly write: "If you stand on a corner with a pack of cigarettes or a bottle and have nothing to do in life, I suggest you sit down and think.
DON'T MISS
"This is the story of a person who walked a lonely street. I hope this will help someone in the future."
The lonely street, many will remember, was part of the lyrics to Heartbreak Hotel, and is one of the reasons many believed Alvin's story to be the true meaning of the song.
After Alvin was released from jail, he attempted another robbery some years later, and was shot by the shop's proprietor, which prompted many headlines about the "Story of Person Who Walked Lonely Street."
While it may be the two stories were conflated to turn into the Heartbreak Hotel, Alvin's death happened only a short while before the song is believed to have been written, so it may be Alvin's legacy lived on in the song.
Elvis recorded it with his session band, The Blue Moon Boys, as well as extra musicians Chet Atkins and Floyd Cramer.
Given the sad lyrics, the song is a bluesy number which stood out among those he recorded.
Heartbreak Hotel became his first Billboard Hot 100 top single, and remained there for seven weeks, influencing many artists we know and love today.
Elton John said of the song, as quoted in Rolling Stone: "That weekend, my mum came home with Heartbreak Hotel and that changed my life. …
"Elvis Presley changed everyone's life. I mean, there would be no Beatles, there would be no Hendrix. There would be no Dylan."