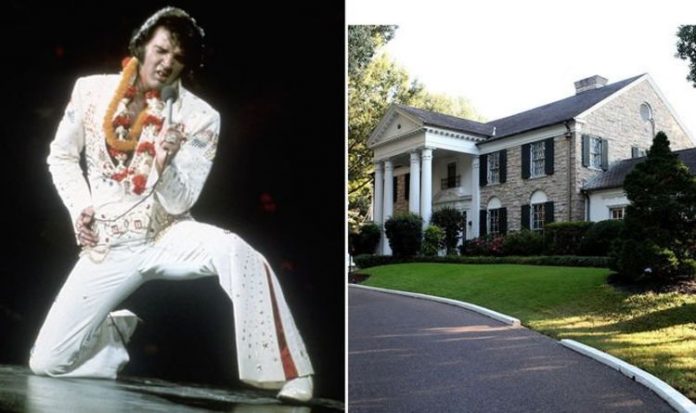 Elvis Presley died at lunchtime on August 16, 1977 and spent his last evening (in the early hours of that morning) with his cousin Billy Smith. Always the night owl who slept through the day, The King and his girlfriend Ginger Alden had called up the Memphis Mafia member and his wife Jo around 3:30am for a game of racquetball. After playing for a couple of hours in Elvis' personal court at Graceland, they all headed back to the mansion around 6:15am and Billy went upstairs with The King.
In Elvis' bathroom, the room where he would have a fatal heart attack around 7 hours later, Billy was helping The King dry his jet black hair.
Speaking on the Memphis Mafia Kid YouTube channel, The King's cousin recounted his final conversation with the 42-year-old star.
Elvis, who was set to fly to Portland, Maine that evening for a string of concert dates, said: "This is going to be the best tour ever."
Billy replied: "All of them to me are great. I know you'll do everything you can to make it as good as you can."
READ MORE: Elvis Presley: The last two songs he sang the day he died at Graceland
It was Elvis' other cousin Patsy Gamble on the phone and she told Joey to get his dad.
Billy answered and she told him the tragic news that "Elvis was gone" and he'd been taken to the hospital.
The Memphis Mafia member hopped on his motorbike there and understandably says he was too upset to see the body of the man he'd been speaking with so warmly just a few hours prior.
Elvis' funeral took place just two days later and he was buried next to his mother Gladys in Forest Hill Cemetery, before both were moved to Graceland's Meditation Garden where their graves are to this day.
Elvis is buried next to his parents, Gladys and Vernon, plus his grandmother Minnie. While his grandson, who died aged 27, was laid to rest opposite last year.
Jo said how Elvis was the centre of their lives and how they don't like going back to Graceland today.
Billy added: "Graceland didn't make Elvis, Elvis made Graceland."
The couple and their two sons Danny and Joey said how they miss Elvis every day, but love sharing stories of the fun times with him and are happy to answer fan questions.