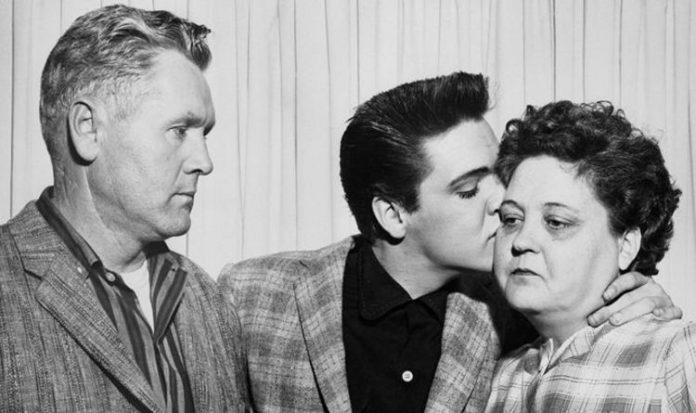 Elvis Presley shot to fame in 1956 but just two years later his beloved mother Gladys died of heart failure at the age of just 46. The King's cousin Billy Smith was present when he heard the news as a 15-year-old boy. Billy is the grandson of Travis Smith, who was Gladys' brother and Graceland's Head of Security.
On August 14, 1958, Elvis was upstairs with Billy when the phone rang and The King asked his teenage cousin to pop downstairs to answer it.
Speaking with Elvis expert Billy Stallings Spa Guy in the video below, Billy's son Joey Smith – who grew up at Graceland – described what happened next.
Joey, Elvis' second cousin, said: "They called Daddy and asked Daddy to go upstairs and talk to Elvis and let Elvis know that he needed to get to the hospital.
"What I've been told is Daddy went there and [got] Elvis, they came downstairs and jumped in a car and Daddy was with him."
READ MORE: Elvis death myth debunked: He did not want to die to be with Gladys
Joey continued: "They got to the hospital and what Daddy said was Elvis didn't bother to put [the car] in park. He just jumped out and Daddy said he slid over and had to put it in park.
"He was a little bit behind Elvis and when he got up there, Gladys had already passed away I believe.
"Elvis went back there and kissed his mother. I think he patted her on the stomach or something like that."
Understandably Elvis was totally devastated, especially as he had such a close relationship with his mother into adulthood.
Billy continued: "Yes, he would go and visit her grave. He went an awful lot and he'd take different people with him.
"He loved his momma so much. I guess if he took somebody with him maybe they could feel his pain with him.
"Every time he went, he'd break down in tears. But that was Aunt Gladys. That was his mother."
Gladys was buried at Forest Hill Cemetery in Memphis, Tennessee, before later being moved to Graceland. There she now rests next to her son, husband Vernon and his mother Minnie Presley.
Later this year Warner Bros are releasing their Elvis movie biopic, covering The King's career from the fifties to the seventies.
Originally, Maggie Gyllenhaal was going to play Gladys Presley but had to pull out of the film due to other filming commitments when production was closed down in the pandemic.
Elvis' mother will now be portrayed by award-winning theatre actress Helen Thomson.
Elvis is set for release in cinemas and streaming on HBO Max on November 5, 2021.