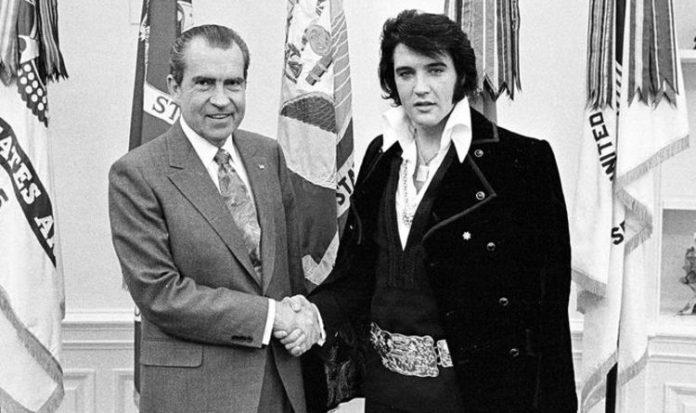 It's the most requested photograph of the entire US National Archives and it was taken 50 years ago on December 21, 1970. Having completed another Las Vegas residency that summer, Elvis Presley was concerned about the drugs culture and hippie movements across the USA. So The King managed to get President Richard Nixon to agree to meet in the White House's Oval Office just before Christmas, so he could offer his assistance in fighting the social difficulties of the day.
During the visit, Elvis requested a Bureau of Narcotics and Dangerous Drugs badge as he had made a hobby of collecting honuary badges of law enforcement groups.
Many of them are on display at Graceland including some of the guns The King personally owned.
Obviously a very different personality to Elvis, Nixon found the encounter set up by his aides Dwight Chapin and Egil Krogh particularly awkward.
Nevertheless, The President went ahead with the meeting believing that Elvis would be a positive influence on the young, while Nixon felt that he needed to "retain his credibility".
READ MORE: Elvis Presley would contact President during pandemic for THIS reason says cousin
During their encounter, Elvis referred to The Beatles as "anti-American" and felt they were being a negative influence on young people.
The King said this even though he regularly covered the Fab Four's songs and had met them in his Bel Air home just five years previously.
After Elvis' death in 1977, Paul McCartney – who was profoundly influenced by Elvis alongside the rest of The Beatles – "felt a bit betrayed" by his comments.
Nevertheless, Macca's most recent words on The King while promoting McCartney III have been very positive, highlighting their meeting in 1965 and how All Shook Up still lifts his spirits.
Nixon added: "With my best wishes to you, Mrs Presley and to your daughter, Lisa, for a happy and peaceful 1971. Sincerely, Richard Nixon."
The President had also gifted Elvis a pair of Presidential seal cufflinks, which he'd taken out of a drawer full of gifts for visitors.
While Memphis Mafia members Sonny West and Jerry Schilling also had their own souvenirs to take home.
But just before they had been invited in, Elvis had spontaneously put his left arm around Nixon and actually hugged him.
According to Daily Mail, Nixon aide Krogh said: "President hugging was not a common occurrence in the Oval Office. It caught the president – and me – off guard. The president recovered from his surprise and patted Elvis on the shoulder.
"Elvis then scooped up his badges and turned to go. He looked like a kid who had just received all of the Christmas presents he'd asked for."
The King and The President's meeting was adapted into a 2016 movie called Elvis & Nixon starring Michael Shannon as Elvis and Kevin Spacey as Richard Nixon.
The comedy film features fun moments of fantasy like Elvis demonstrating karate moves to The President in the Oval Office and drinking his Dr Pepper when being asked not to touch it.