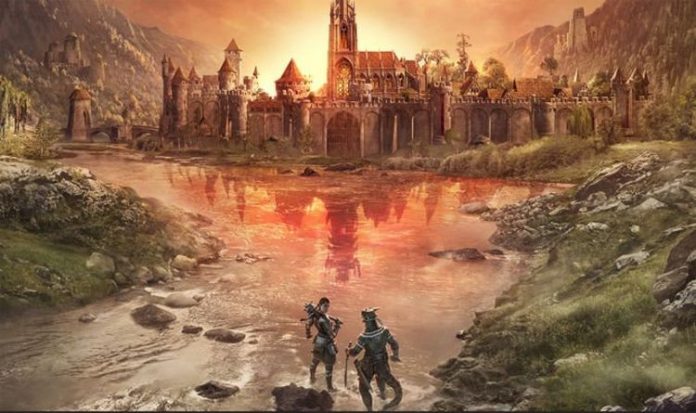 Elder Scrolls Online developer Zenimax has just announced a brand new expansion for the MMORPG.
Titled Blackwood, the new content forms part of the Gates of Oblivion saga. Set 800 years before the events of Oblivion, the DLC features locations that might be familiar to long-time fans of the Elder Scrolls series.
To celebrate the announcement of the new content, Elder Scrolls Online director Matt Firor has been discussing how the game has changed since launch.
Interestingly, Firor suggests that games like GTA Online may have influenced one of the biggest changes in ESO's history.
"We changed the game so that it wasn't level based, so because of the Orsinium story," Firor explained. "That was One Tamriel which came out in 2016, where we auto-levelled the entire game so you could play with whoever you wanted when you wanted.
"That was the single biggest decision that we made that had the biggest impact on people playing the game."
According to Firor, the change to the level system meant people could simply jump in and play, without any drawbacks.
"You could just, from the moment you started, you could adventure together," Firor continues. "Player separation was taken care of and the level gap problem was taken care of. I think that was the biggest decision, we made it more social.
"Obviously it's not a 'standard' MMO anymore because of that, but it's like much more like a standard online game.
"Like, Grand Theft Auto – do you really worry about what level you are in Grand Theft Auto? No. You just jump in and play. And that was the point: just let them jump in and play.
"Let them do whatever they want. Don't separate them. Don't worry so much about levels. Levels are now personal; it's now your character and how you build out your character, what levels are for."
Firor believes that the decision led to an explosion in player numbers in 2016 and 2017, while the addition of Skyrim and Morrowind content further boosted numbers.
Indeed, according to Firor, there are now roughly 18 million people playing Elder Scrolls Online across the world.
As for the newly announced Blackwood content, fans will be able to jump in from June 8.
"Blackwood is part of the Gates of Oblivion, a saga of deceit and revelations that leads you to the nightmare realm of the Deadlands," Zenimax explains.
"Travel across Blackwood from the marshes of Shadowfen, the Argonian homeland, to Leyawiin, an Imperial city first featured in The Elder Scrolls IV: Oblivion.
"Witness the fury of Mehrunes Dagon, a god of destruction, change, revolution, energy, and ambition. Discover his diabolical schemes involving the Longhouse Emperors and prevent Tamriel from falling into the grasp of a Daedric Prince."