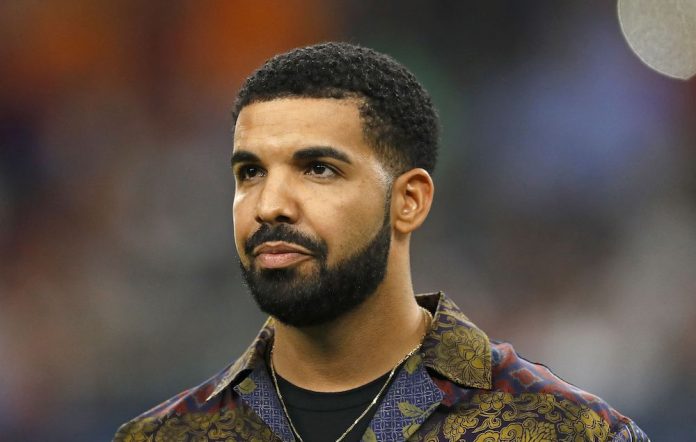 June has already offered up two new albums from Kanye West and it also looks like we'll be getting a Drake record too. Drizzy season's approaching, and here's everything we know so far about his upcoming release.
What's the title?
In April, Drake teased something called 'Scorpion' via a photo of himself wearing a black bomber jacket bearing that word and a picture of a diamond-encrusted scorpion necklace, both images posted to Instagram. Following these teasers, it was later confirmed that 'Scorpion' would indeed be the title of Drake's next record.
When will it be released?
After teasing that he would "be back in 2018 to give you the summary" on 'Do Not Disturb', the closing track from 2017's 'More Life', Drake has since suggested that his new album would be released in June. The bomber jacket, depicted in his announcement photo, also included the words "June Twenty Eighteen".
Drake has since suggested that 'Scorpion' will be released on June 29, hinting at the news in an Instagram post.
This could potentially be subject to change though, as it's not entirely certain that Drake has completed work on the album yet. In May, he said on Instagram that he was on the "home stretch", while later that month he shared new track 'I'm Upset' along with the caption "Anyways…back to this album".
Is 'Scorpion' a double album?
It could be. Billboards promoting the record recently appeared in Drake's hometown of Toronto. One reads, "A-Side. B-Side", while another asks: "Is There More?" The posters have started speculation among fans that the record will feature two discs worth of material. Others have suggested the star could be splitting the album into sounds – one side for his R&B-leaning songs, another for his raps.
Has the artwork been released?
Seemingly so, and surprisingly it doesn't feature an actual scorpion. Drake recently shared an Instagram post that featured a black-and-white shot of the rapper, with "Scorpion 2018" handwritten on it as well as his signature, leading fans to suggest that this could be the album's front cover.
What tracks could feature?
Drake is known for his between-album one-off singles, and sometimes those tracks make their way onto the rapper's eventual full-length releases. For example, 'Hotline Bling' originally came out in July 2015, later being included as a bonus track on Drake's fourth album 'Views', released nine months later in April 2016.
While 'Views', his fourth record, was Drake's last album proper, the rapper has put out numerous releases since. In March 2017, he released the playlist/mixtape 'More Life', which spawned the singles 'Fake Love' and 'Passionfruit'. It's safe to say that none of these songs will be replicated on 'Scorpion', but there's plenty of other tracks released since 'More Life' that could feature.
'Signs' was a stand-alone track released in June 2017, premiering at a Louis Vuitton Paris Fashion Week show. 2017 also saw another new number called 'Pistols' leak online. It included the lyrics: "I've been sleeping with a pistol in my bed / I rather have you here instead".
In January 2018, Drake released a new two-track EP called 'Scary Hours', featuring the songs 'God's Plan' and 'Diplomatic Immunity'. The former track reached number one in the UK and US and came with a music video that saw Drake giving away almost $1 million to various good causes.
Since then, Drake has topped the charts both sides of the Atlantic again with club-ready hit 'Nice For What', the video to which featuring everyone from actresses Olivia Wilde, Issa Rae, Rashida Jones, Letitia Wright, Tiffany Haddish, Emma Roberts and Michelle Rodriguez to musician Syd and model Jourdan Dunn.
A day after releasing Pusha-T diss track 'Duppy Freestyle' in May, Drake released a new track called 'I'm Upset', perhaps the mostly likely to make it onto 'Scorpion'. The Canadian rapper shared its artwork, featuring a scorpion climbing over a skeletal hand, along with the caption "Anyways…back to this album…new single out now!!!".
He's also released a video for 'I'm Upset', which guest stars Jay and Silent Bob and sees the rapper reuniting with a number of his former cast members from the teen drama Degrassi: The Next Generation – which he starred in for eight seasons from 2001 to 2008.
Drake also released a collaboration with Lil Baby in May called 'Yes Indeed' (formerly titled 'Pikachu') and featured on BlocBoy JB's February single 'Look Alive'.
What guests could appear?
As expected, the rapper's long-term producers and collaborators Noah "40" Shebib and Olivier El-Khatib will again helm the release. 'More Life' featured big name guests such as Kanye West, Migos' Quavo, Travis Scott, 2 Chainz and Young Thug, as well as British stars like Giggs, Sampha and Jorja Smith. Can we expect big-hitters and Brits on 'Scorpion'? Perhaps.
Drizzy does like unearthing underground talent though, and, in December, he was pictured in the studio with Nigerian artist Tekno. He is also rumoured to be working on a new single with Puerto Rican trap artist Bad Bunny (with Drake reportedly singing in Spanish, no less), so 'Scorpion' could be a global affair.
Drake recently shared a photo of DJ Khaled donning a 'Scorpion' bomber, which could be seen as a hint that the 'Wild Thoughts' hitmaker is involved. The pair teamed up last year for 'To The Max' from Khaled's 'Grateful'.
However, Drake has also shared a photo of Stranger Things star Millie Bobby Brown rocking the 'Scorpion' jacket. She's probably less likely to appear on the album, despite recently calling the rapper a "great person".
Fellow Canadian and veteran crooner Paul Anka recently said that he has a song coming out with Drake.It might sound bizarre, but this collaboration could actually appear on 'Scorpion'.
"I'm working with a brilliant young artist who is as hot as you can get right now, a fellow young Canadian and his name is Drake," Anka said in May. "We recorded something that will be released, out in June. That's all I can tell you."
Could there be Pusha-T diss tracks?
Potentially. If not straight-up Pusha disses, you have to assume there will definitely be some subliminal shots fired within Drake's lyrics at some point.
The two rapper had been engaged in a very public feud recently, but the beef has appeared to cool over the past weeks.
Initially, Pusha had taken aim at Drake overt ghostwriting accusations on the final track of his recently-released album 'Daytona', which prompted a swift response from Drake with the retort 'Duppy Freestyle'.
Drake's track saw him not only hit back at Pusha, suggesting that he had fabricated his drug dealing past, but also accuse Kanye of using ghostwriters himself.
Pusha then fired back at Drake by accusing him fathering an illegitimate child on a diss track called 'The Story of Adidon'. Its artwork also used an old photo of Drake in blackface, leading Drake to issue a public statement addressing the controversy.
After it was claimed that Drake had already prepared a response to Pusha and Kanye that could be "career-ending" for the pair, Pusha-T confirmed that the beef between the pair was over.
Have tour dates been announced?
Yes, Drake is heading on a North America tour with Migosfrom July. The stint is delightfully called 'The Aubrey and the Three Amigos' tour.
Drake and Migos will play the following dates:
Salt Lake City, Vivint Smart Home Arena (July 26)
Denver, Pepsi Arena (28, 29)
Kansas City, Sprint Center (31)
St. Paul, Xcel Energy Center (August 1)
Toronto, Air Canada Centre (10, 11)
Detroit, Little Caesars Arena (14, 15)
Chicago, United Center (17, 18)
New York, Madison Square Garden (24, 25, 28)
Brooklyn, Barclays Center (30, 31, September 1)
Montreal, Bell Centre (4, 5)
Boston, TD Garden (7, 8, 9)
Washington DC, Capital One Arena (12, 13)
Philadelphia, Wells Fargo Center (15, 16)
Nashville, Bridgestone Arena (18)
Miami, AmericanAirlines Arena (21, 22)
New Orleans, Smoothie King Center (24)
Dallas, American Airlines Center (26)
Houston, Toyota Center (29, 30, October 2)
Las Vegas, MGM Grand Garden Arena (5, 6)
Glendale, Gila River Arena (8)
Los Angeles, Staples Center (12, 13)
Inglewood, The Forum (16, 17)
Los Angeles, The Forum (19)
Oakland, Oracle Arena (26, 27, 29)
Seattle, Tacoma Dome (November 1)
Vancouver, Rogers Arena (3, 4)
Edmonton, Rogers Place (6, 7)
Atlanta, Philips Arena (16, 17)