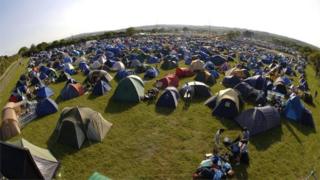 A father who tried to collect his son from the Isle of Wight Festival by boat had to be when he got stuck in mud.
The man's craft ran aground off Newport on Thursday, close to the festival site at Seaclose Park.
He attempted to continue in the boat's dinghy, but when it also ran aground he became "stuck fast in cloying mud" as he tried to reach land.
After his son and another yachtsman who went to his aid also got stuck, coastguards staged a two-hour rescue.
The RNLI said the operation began at about 01:00 BST on Friday.
The father, who had been travelling from Portsmouth, was taken to hospital "suffering from cold", it added.