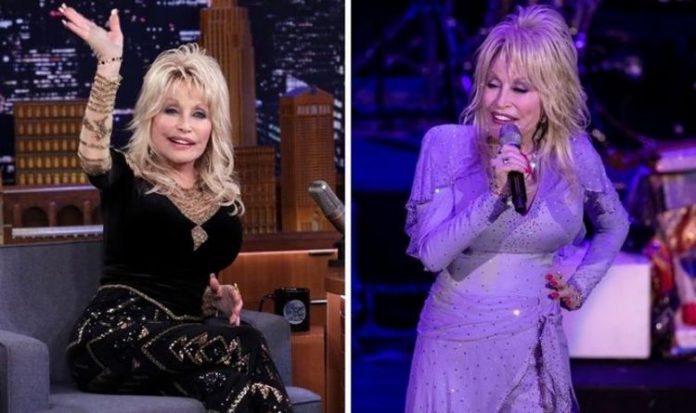 Dolly Parton has written songs about heartbreak, pain, love and loss, many of which relate to fans' personal lives. But in her own personal life, she has had a long marriage to her husband Carl Dean. Carl met Dolly before she was famous and the pair got together, and he soon became a key inspiration for her. However, he was not what the song I Will Always Love You is about.
The story to I Will Always Love You did not necessarily relate to her own love life, but her professional life.
At the time, Dolly was appearing on The Porter Wagoner Show alongside her great friend and mentor, with whom she had sand duets for five years.
For Dolly, this was the moment when she needed to say goodbye to the show and move forward alone, but Porter and she could not agree about when was the best time to do this.
It was a really tough time for Dolly, who had to tear herself away from someone who helped make her a star, while also wanting to remain close to her long-term friend.
READ MORE: ABBA band members: What have the women from ABBA done since the split?
She said to CMT in 2011: "There was a lot of grief and heartache there, and he just wasn't listening to my reasoning for my going.
"I thought, 'Well, why don't you do what you do best? Why don't you just write this song?'
"So I went home and out of a very emotional place in me at that time, I wrote the song, 'I Will Always Love You.'"
She returned home and played it to Porter, and it was the first time he was able to understand how she truly felt.
But this also made him realise what a special talent she was, and the song affected him in a way she did not expect.
Speaking to The Tennessean in 2015, Dolly said: "He started crying.
"When I finished, he said, 'Well, hell! If you feel that strong about it, just go on — providing I get to produce that record because that's the best song you ever wrote.'"
This is one of the few songs which is about Dolly's professional life, as most are about her personal life.
DON'T MISS
With regards to Jolene, one of Dolly's most famous songs, the song is about a woman who Dolly noticed was interested in her husband.
At Glastonbury 2014, where Dolly headlined, she told the crowd a story of Jolene.
She said: "Now, some of you may or may not know that that song was loosely based on a little bit of truth.
"I wrote that years ago when my husband… was spending a little more time with Jolene than I thought he should be.
"I put a stop to that. I got rid of that redhead woman in a hurry."
This Jolene, it turns out, was a red-haired woman who worked at a bank local to the couple in Nashville.
Dolly, however, was not to be put out by Jolene's advances, and in her Glastonbury set, continued: "I want you folks to know, though, that something good can come from anything.
"Had it not been for that woman I would never have written Jolene and I wouldn't have made all that money, so thank you, Jolene."