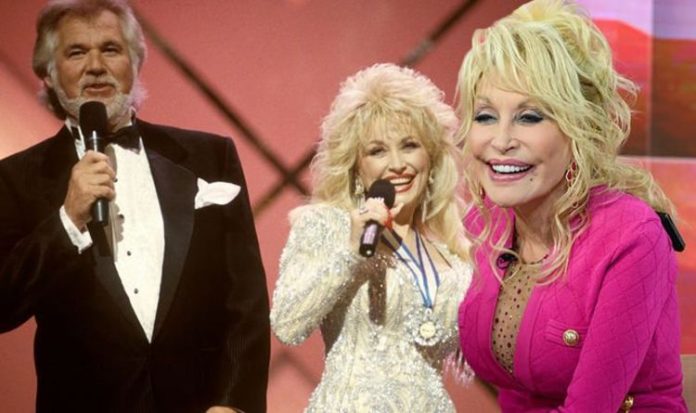 Dolly Parton and Kenny Rogers released Islands in the Stream in 1983. The song was a major hit, and became one of Dolly's and Kenny's best known tunes. It sparked rumours of romance between them – but did they ever marry?
Dolly Parton and Kenny Rogers are known for their on-stage chemistry, especially when they sang Islands in the Stream.
Kenny appeared on Dolly's TV show in the 1980s at various points, and the pair were long-term friends.
The song they sang, unlike most of Dolly's, was not written by the country singers, and instead came from Barry, Robin and Maurice Gibb, AKA The Bee Gees.
But in a joint interview with the Today show, Dolly and Kenny revealed whether they ever went out.
READ MORE:  1980s lyrics quiz: Can you complete the lyrics in these 80s hits?
However, Dolly was also taken, having married her husband, Carl Dean, in 1966.
Kenny, on the other hand, was married five times and had five children.
His last marriage, to Wanda Miller, took place in 1997 and they had twins, and were together until his death in 2020.
At the opening of her amusement park, Dollywood, Kenny spoke about their long friendship and working relationship, saying: "I think with me and Dolly, just being together, at least I can only speak for myself, being together has its own rewards and creates its own memories.
DON'T MISS
"We've never planned anything, it's always kind of happened and that's what makes our relationship so spontaneous."
They met for the first time when Kenny went on Dolly's TV show, then they recorded Islands in the Stream in 1982, and performed it together many times.
Speaking about when they met, he added: "She was incredibly sweet to me but it was more like a hostess and I was a guest.
"And then later on we met again when we were recording Islands in the Stream.
"And I had really never spent any time with Dolly and that was the point when we really realized we had a lot of stuff in common and we truly enjoyed being in each other's company.
"She makes me laugh and apparently I make her laugh. I've seen some films of us on stage and I've never seen two people relate to each other better than Dolly and I do on stage."
Their chemistry is key to their success, whenever they have come together, and Dolly shared her devastation at his death on March 20, 2020.
She said: "I know, we all know Kenny is in a better place than we are today, but I'm for sure he is going to be talking to God sometime today, if he ain't already, and he's going to be asking Him to spread some light over this darkness going on here.
"But I loved Kenny with all my heart and my heart's broken, and a big old chunk of it has gone away with him."