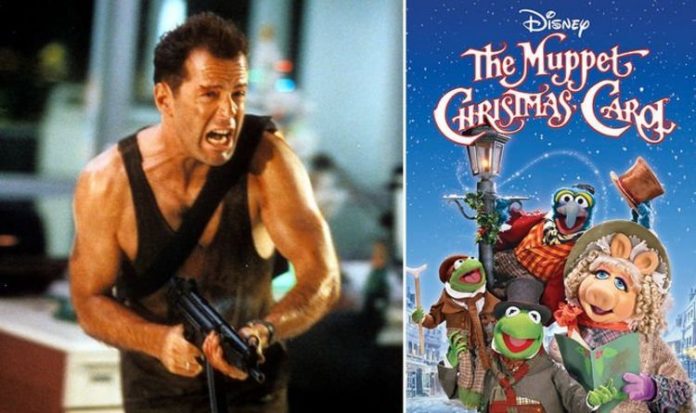 There are so many festive films out there that have become yearly Christmas movie staples. And now BBC Radio 2 listeners have voted for their Top 12 favourites of all time, with a choice of 25 selected by film critic James King. And the one that came out on top even beat Die Hard and The Muppet Christmas Carol.
The winner was Frank Capra's 1946 classic It's a Wonderful Life starring James Stewart as George Bailey.
Just behind was Bruce Willis thriller Die Hard and Michael Caine's The Muppet Christmas Carol.
While Home Alone, Elf and Love Actually followed just behind the much-loved Christmas movies.
Here are the full Top 12 Christmas movies of all time as voted for by BBC Radio 2 listeners.
READ MORE: Home Alone came SECOND in the most popular Christmas movies of 2020
King added: "And as for Die Hard in the runner-up spot?
"Well, it should finally answer the question as to whether John McClane's antics in the Nakatomi Plaza constitute a Christmas film or not. Yippee-kay-yay!"
The film critic is hosting a countdown programme of the Top 12 festive films of all time now available on BBC Sounds.
The show will also be broadcast on BBC Radio 2 at 9pm on Christmas Eve.
A statement read: "In the show, James will be celebrating It's A Wonderful Life with exclusive interviews with Karolyn Grimes who played Zuzu Bailey in the film."
The actress who shared scenes opposite the late Stewart turned 80-years-old this year.
The BBC added: "[She's] the little girl who delivered the famous line 'Every time a bell rings an angel gets his wings' – as well as Kelly Harcourt, Jimmy Stewart's daughter, talking about her father's memories of starring in it.
"Plus he talks to Richard Curtis about the legacy of Love Actually, and Steve Whitmire who played Kermit, Rizzo the rat and other roles in The Muppets Christmas Carol. A BBC Audio production."