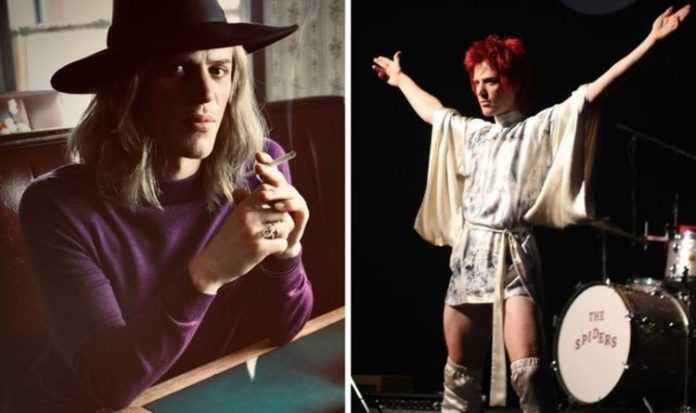 David Bowie is a hugely recognisable figure in the music world, with his various incarnations becoming icons. Now, folk singer-turned-actor Johnny Flynn has become the Ziggy Stardust singer in the upcoming biopic, Stardust, depicting David's early life. Here is everything there is to know about Stardust and when it comes out in cinemas.
When is Stardust out?
Stardust will be released in cinemas on January 15, 2021, by which time the hope is cinemas will be back open and running.
However, due to the COVID-19 pandemic, many films are also being released via streaming sites and platforms as well.
Stardust is just the same, and will be released digitally as well, though the platforms available will be revealed closer to the time.
READ MORE:  Josh Groban music: When did Josh Groban start singing? How old is he?
What is Stardust about?
The official synopsis from Vertigo Releasing reads: "Meet David before Bowie. One of the greatest icons in music history; but who was the young man behind the many faces?
"In 1971, a 24-year-old David Bowie embarks on his first road trip to America with Mercury Records publicist Ron Oberman, only to be met with a world not yet ready for him.
"Stardust offers a glimpse behind the curtain of the moments that inspired the creation of Bowie's first and most memorable alter ego Ziggy Stardust, capturing the turning point that cemented his career as one of the world's greatest cultural icons."
Who is in Stardust?
The part of David Bowie is played by Johnny Flynn, the folk singer-turned-actor who has recently been seen in Jane Austen adaptation Emma.
Marc Maron plays Ron Oberman, David's US publicist who helps him to create the character of Ziggy Stardust, while Jena Malone plays David's first wife Angie Bowie.
Other supporting players include Derek Moran, Anthony Flanagan, Julian Richings, Aaron Poole, Monica Parker, Roanna Cocharne, Jorja Cadence, Annie Briggs and Ryan Blakley.
DON'T MISS
David is dismayed as fewer people like him, and he struggles to connect with his audience.
On advice from Ron, David decides to be someone else and tries to show the world his music through a medium they can understand.
He becomes Ziggy, but his friends and those who know him struggle to reconcile his new character with the man they knew.
But for David, as he admits, he has no sense of self, and must become the character who will help him share his music.
Is Stardust liked by critics?
The film has divided fans and critics alike, with some feeling the lack of music by the singer has decreased its appeal.
However, One Room With a View's George Howarth said: "Though the idea of a Bowie film without his music may turn off most fans and may seem slightly pointless, Stardust succeeds somewhat in its simplicity, standing in stark contrast to its bombastic, big budget contemporaries."
Johnny Flynn also won the Best Actor Award at the 2020 Raindance Film Festival for his performance, while others have felt his performance does not capture the man they knew and loved.
Stardust is out in cinemas and on digital platforms on January 15