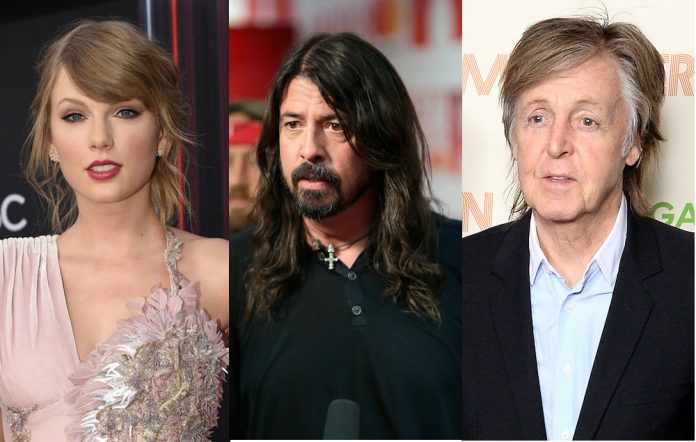 The pop star stepped in to rescue the Foo Fighters man from embarrassment
Dave Grohl has recalled the time Taylor Swift "saved" him at a party thrown by Paul McCartney.
The Foo Fighters frontman was a guest on The Late Late Show With James Corden last night, during which the Beatles legend's Carpool Karaoke episode aired.
Asked if he still gets nervous when playing with McCartney, Grohl said: "Yes, it never wears off. When you go to jam with him, you're jamming with Paul McCartney. But there was one time at a party that we all went to and I wanted to leave early cos I had to get my kids to the bus stop at seven o'clock in the morning."
After telling his wife they needed to leave at 10:30pm, Grohl said that was the exact time when the party started to get "really good". "Paul got up and started playing this song on piano, and it was a new song," he said. "It was amazing just to sit in his living room and watch him play piano. He finished and everyone turned to me and said, 'Alright Dave, play a song!'
"I can't play piano and I was a little out of sorts at that point," he continued. "All of the guitars are left-handed and I'm like, 'Oh my god, what do I do? What do I do?' and at that point, Taylor Swift stands up and goes, 'I'll do a song'. So she saved my ass."
Swift then started playing a song that was familiar to Grohl, but he couldn't immediately place it. It turned out to be Foo Fighters' 'Best Of You'. Watch Grohl speak about the moment further up the page. Foo Fighters also performed the track themselves on the programme, which you can directly above.
Meanwhile, Grohl dedicated the band's Best International Act Kerrang! Award to Chester Bennington. The group collected the trophy and one for Best Live Band at the London ceremony last night (June 21), with the frontman using the moment to remember the late Linkin Park singer.
"On a serious note, I would like to dedicate this one to Chester," Grohl said. "I know what it's like to lose somebody like that. At least we have his music forever. So this one's for Chester."