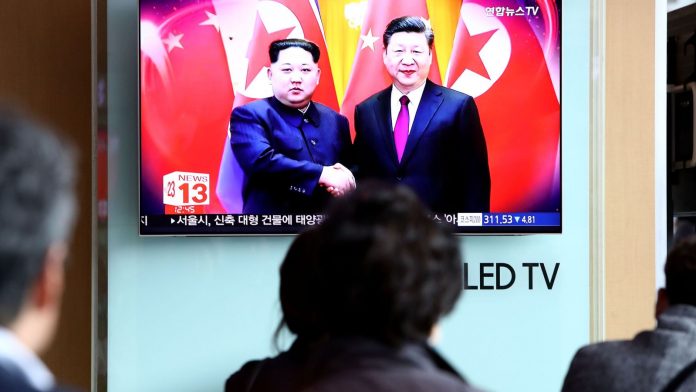 North Korea has broadcast footage of Kim Jong Un's latest trip to China, where he gained approval for the outcome of his historic summit with Donald Trump.
The video, shown on state TV, serves to underline the close relationship between the two allies, showing the North Korean leader with President Xi Jinping visiting to an agricultural institute run by the Chinese Academy of Agricultural Sciences, a traffic control centre and the North Korean embassy.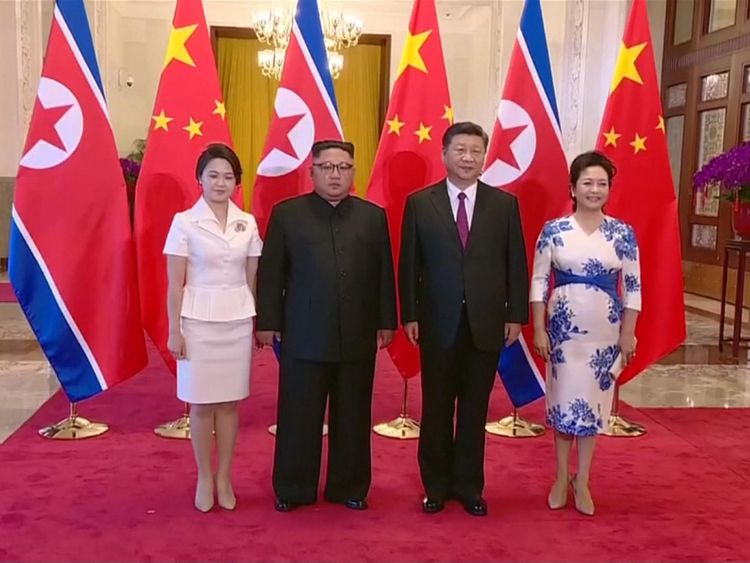 Beijing's support will also help bolster Mr Kim's negotiating position with Washington over Pyongyang giving up its nuclear arsenal.
North Korea's state-run KRT TV said the two leaders reached an understanding on the denuclearisation of the Korean peninsula after discussing the outcome of the landmark talks Mr Kim held with Mr Trump in Singapore earlier this month.
Mr Kim and Mr Xi also discussed measures to bolster "strategic and tactical" co-operation between the two countries..
The trip to China was Mr Kim's third to the country in three months – a rarity for the North Korean leader whose first overseas trip since taking power in 2011 was in March.
The official China Daily newspaper reported on Thursday that ties between the two countries have "radiated new vitality".
It said Mr Kim's visits to the agricultural and traffic control centres showed the economy was a priority for him.
"Kim's latest talks with Xi will have reassured him that China stands behind the DPRK [North Korea] as it switches its focus to economic development," the paper said.
There has been speculation about Mr Kim's sincerity at the summit with Mr Trump, and whether Pyongyang is really willing to give up its nuclear weapons.
Mr Trump said on Thursday that the process of complete denuclearisation "has already started" and the country was blowing up four of its biggest test sites.
"They've stopped the sending of missiles, including ballistic missiles," the president said.
"They're destroying their engine site. They're blowing it up. They've already blown up one of their big test sites, in fact it's actually four of their big test sites.
"And the big thing is it will be a total denuclearisation, which has already started taking place."
However, US officials have said there is no evidence of any implementation of the agreements made at the summit.
The officials, speaking on condition of anonymity, speculated Mr Trump might have been referring to explosions in May – before the summit – that North Korea said were to destroy tunnels at the Punggye-ri nuclear test site and the dismantling of a medium-range ballistic missile test stand at Iha-ri – also in May.
The US State Department said there had been contact with North Korean officials since they met earlier this month, and secretary of state Mike Pompeo will be meeting officials to implement what was agreed in Singapore, spokeswoman Heather Nauert said.
On Wednesday, defence secretary Jim Mattis was asked whether North Korea had yet taken any action on the denuclearisation of the peninsula.
"No, I'm not aware of that… obviously, it's the very front end of a process," he said.
"The detailed negotiations have not begun. I wouldn't expect that at this point."