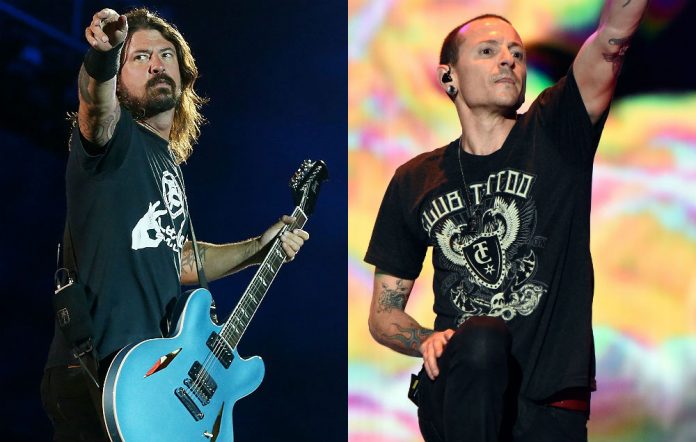 'I know what it's like to lose somebody like that'
Dave Grohl used Foo Fighters' acceptance speech at last night's Kerrang! Awards to pay tribute to the late Linkin Park frontman Chester Bennington.
Last night saw the Foos pick up the prizes for Best Live Band and Best International Act. During their speech for the latter, Grohl dedicated the win to Bennington and compared the loss of that of his late Nirvana bandmate Kurt Cobain.
"On a serious note, I would like to dedicate this one to Chester," said Grohl. "I know what it's like to lose somebody like that. At least we have his music forever. So this one's for Chester."
The Linkin Park frontman passed away in July after taking his own life. He was just 41-years-old.
Last week, Mike Shinoda addressed whether Linkin Park will continue without Chester Bennington.
"That's the million-dollar question, right?" he said. "And, unfortunately, I've said it before, but there aren't any answers to that at this point. It would be awesome if there were. That would be really easy."
"I wish we were in a Brian Johnson/Bon Scott situation where it's, like, no, the guy, our best friend, who sang for the band who passed away, he literally said, 'This is the guy,' and we listened to the guy and the guy's definitely the guy, and we all love hanging out with him, and we want to play with him.
"That didn't happen to anybody else, really. That hasn't happened to us."
Meanwhile, this weekend sees Foo Fighters return to London for huge shows – here's everything you need to know about the gigs.